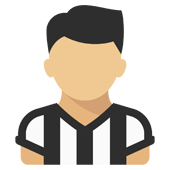 Content count

562

Joined

Last visited
Community Reputation
155
Buona
About Aho

Recent Profile Visitors
The recent visitors block is disabled and is not being shown to other users.
Aho replied to carlein's topic in Cestino

Una chiacchierata servirebbe....

Lo scambio alla pari e' proprio una comica.

L'anno scorso non potevamo fare altro, dopo Demiral e De Ligt siamo rimasti senza soldi, l'aumento di capitale lo hanno fatto troppo tardi. Il vero banco di prova e' il prossimo mercato.

E che lo ha messo a fare ? Negli ultimi tempi Rabiot, che tecnicamente e' infinitamente meglio di Matuidi, era in crescita... Perche' vi ha rinunciato ? E poi quando lo ha messo in campo, perche' lo ha messo a destra dove ha sempre fatto male ? Sarri ieri e' stato inconcludente.

Gattuso e' arrivato da poco, lo spogliatoio non e' unitissimo, gli mancavano 3 giocatori importanti, eppure ha mostrato un impegno a noi sconosciuto; avremmo dovuto farne un sol boccone e invece siamo stati sopraffatti. Non va.

Diciamo che hanno sbagliato anche i due difensori in area, la cui presenza era del tutto inutile visto che sulla respinta del portiere non sono corsi verso il pallone e non stavano marcando nessuno.

Ma perche' tu ha visto una squadra giocare con grinta ?

Condivido in pieno. Si puo' perdere perche' si trova un avversario piu' forte, non perche' si giochicchia all'acqua di rose. Inaccettabile.

Non alimentare polemiche in pubblico e' una cosa buona, non siamo come le altre squadre ma, spero di sbagliare, si ha la sensazione che in privato non lo ascoltino abbastanza o non si faccia sentire come dovrebbe, come se ci fosse qualcuno che conta piu' di lui nello spogliatoio. E questo non va bene. Ci serve un capo e questo deve essere l'allenatore.

Non era quello il senso delle parole di Sarri. E comunque non esiste "un meglio" in una sconfitta. E' inaccettabile e basta e non parliamo di come e' maturata.

Ovvio che non stara' godendo, ma dire che se dobbiamo perdere e' meglio farlo col Napoli, non va bene.

Quest'anno abbiamo cambiato la posizione in campo ma giochiamo male uguale.

La seconda che hai detto o magari entrambe...

Black, stiamo giocando male da troppo tempo, qualcosa deve cambiare.