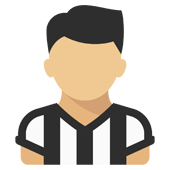 Content count

325

Joined

Last visited
Community Reputation
45
Neutrale
About Cipio

Recent Profile Visitors
The recent visitors block is disabled and is not being shown to other users.
Cipio replied to Il Demone's topic in Cestino

L'aveva già fatto contro la SPAL giocando piuttosto bene. Se è il lavoro di copertura il suo forte ci può stare anche per quello, e per vedere al suo posto altri.

Ieri ha fatto un partitone. Questo Bentancur al momento è l'unico centrocampista alla Juve che se lo vedessi giocare in un'altra squadra direi "magari averlo". PS fatti crescere la barba anche tu come il Pipa che incute più timore agli avversari.

Ci metterà un po' come ci ha messo un po' per capire che De Ligt (il De Ligt conosciuto fino all'acquisto) va fatto giocare a destra per non snaturarlo, con Bonucci che può solo annuire dato che a sinistra già ci giocava; e dire che il mister è un rinomato scrupoloso dei dettagli (aggiungiamo collaboratori e strumenti del mestiere). Ci arriverà se non ci è già arrivato. Il 433 è modulo sarriano per antonomasia, ma non ci sono gli interpreti per usarlo in pianta stabile, ne un ricambio: al posto di Higuain chi metti? Al posto di Costa? E di Ronaldo? Adatti Dybala ala atipica, avanzi Cuadrado ma poi in difesa al suo posto chi ci va? Il 4312 è soluzione di ripiego.

All'Arsenal giocava trequartista per lo più nel 3412, penso che qualche differenza ci sia. Nel nostro 4312 chiunque messo dietro le punte non ha reso il giusto, tranne Dybala grazie alle sue doti da fuoriclasse ed essendo una punta diventa il terzo di un tridente atipico. Le qualità del gallese sono indiscutibili, bisogna accantonare quella formazione secondo me e spero che Sarri dopo le sostituzioni abbia preso appunti o le abbia fatte per convincersi della sua inefficacia. Non vorrei però che con Matuidi si arrivasse a un nonnismo indiretto per cui debba essere sempre preferito a Rabiot od altri per questioni gerarchiche. Dimostri le sedicenti palle anche qui il mister.

Peccato per Danilo, a salute è il De Sciglio brasiliano ma stava facendo bene.

Mi autocito: E' bastato un primo tempo

Dybala vale Costa e anche meglio, quindi nessuna preoccupazione, togli uno metti uno più forte. Sui terzini ParaticiOut.

Adesso si può dire: Che bella Juve!

Sarà una bella partita, una delle rare volte in cui la formazione mi preoccupa meno. Se non fosse per qualche elemento che comunque può sempre stupire e fare il partitone azzarderei anche perfetta. Qualora fosse così, non si minimizzi con l'avversario rimaneggiato e la competizione poco importante, quando la squadra non c'è gioca male pure contro la Triestina, viceversa gioca bene ovunque e contro chiunque.

Bella formazione fino ai due centrali in difesa.

No era una battuta, essendo una partita a eliminazione diretta vince chi fa più gol

Anche in Coppa Italia vince la miglior difesa.

Vuole dire la sua anche in questa competizione nella sua fase clou e con un avversario difficile, io lo lascerei fare.