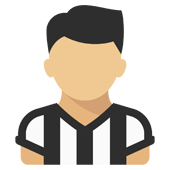 Content count

66

Joined

Last visited
Community Reputation
10
Neutrale
About Cipio

Recent Profile Visitors
The recent visitors block is disabled and is not being shown to other users.
Cipio replied to The Italian Giants's topic in Campionato

Due gol alla stessa maniera presi in cinque minuti per calo di attenzione io le chiamo anche papere. Sono errori, chiaro, ma sulla scia di tanti altri. La difesa allora era meno solida di oggi. Pardon, 5 erano contro l'Utd l'anno scorso.

Cipio replied to The Italian Giants's topic in Campionato

Tra l'altro lì giocammo benissimo se non fosse per le papere di una difesa ancora in rodaggio.

A sto giro gli do ragione. Mi interessa poco discettare. Aver visto la squadra giocare peggio che con lui e avendo uno "scienziato" del calcio in panchina mi ha fatto ricredere di molte cose. In questa intervista leggo una voglia di rivalsa dopo tanto fango, sacrosanta per chi ha vinto quanto lui. Sono fiducioso che alla sua prossima avventura farà altrettanto bene.

Ho lasciato un commento a metà strada dove dicevo che vedevo solo Dybala dietro le punte, dimenticandomi di Pjanic ormai assunto a regista basso, ruolo in cui non ce l'ho mai visto bene. Ecco, mi domando se il suddetto come trequartista (o per lo meno sbilanciato in avanti invece che a ridosso della difesa) sia o meno una sciocchezza, io per le sue caratteristiche ce lo vedrei meglio di gente piazzata lì in maniera forzata. O lui o Dybala. Anche se forse può valere un Ramsey riadattato al ruolo, guardando meglio...

Dybala è l'unico che ci vedrei, nel tanto acclamato tridente. Altrimenti nessuno. Lì ci vuole un trequartista e non ne abbiamo, e anche basta adattare gente male a tale ruolo. Si sondino altre strade. Se alla prossima rivedrò il 4312 mi convincero' che Sarrei è un capoccione.