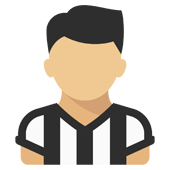 Content count

94

Joined

Last visited
Community Reputation
50
Buona
About numerosei

Recent Profile Visitors
The recent visitors block is disabled and is not being shown to other users.
@Leevancleef ma è un'edizione limitata o meno? Perché non sembra abbia le caratteristiche di una limitata, per prezzo e materiale. La tuta esce il 2/11, quindi credo che questa maglia rimarrà in vendita almeno per una decina di giorni.

Credo sarà un'edizione limitata non molto limitata, ecco. Ti ricordi la maglia color arcobaleno cangiante fatta in collaborazione con EA Sports? Per me è una cosa simile, prezzo della maglia versione fan, personalizzazione libera ma disponibilità relativamente piccola. Infatti c'è scritto "max 3 pezzi per ogni cliente", non avrebbe senso se rimanesse disponibile per tutta la stagione. Comunque la notifica dell'app Juventus mi ha fatto sorgere un dubbio: diceva più o meno "verrà utilizzata per la PRIMA volta a Verona". Vedremo

Occasione sprecata, peccato.

M. Io sono più alto e le L mi stanno davvero lunghe. Poi dipende anche dalla corporatura, perché le M sono più strette, ovviamente. Brutalizzo: se sei alto 1.80 e pesi 70kg assolutamente M, se invece pesi 100kg vai a vedere le misure della maglietta sul sito Adidas e confrontale con le tue circonferenze.

1

Video divertente ma anche COMMOVENTE, dico sul serio. Vedere il divertimento soprattutto degli attuali giocatori della Juventus ma anche l'agonismo messo in campo dallo staff mi ha dato sensazioni bellissime

non capisco perché privarci senza nessun guadagno di Douglas per darlo al Bayern. Loro ritengono di trovare un giocatore utile, ed essendo i campioni UCL in carica penso che se è utile a loro lo sarebbe anche per noi, così a naso. In caso di prestito oneroso o cessione sarei stato favorevole, così non ha senso... soprattutto se il fine era strapagare Chiesa.

Eppure è semplice: si sta giocando da Luglio e si giocherà fino a Luglio prossimo (Europei, mai sentiti?) praticamente ogni 3/4 giorni con un solo mese di stop, già passato. Meglio avere disponibili cinque sostituzioni o meglio vedere partite con giocatori mezzi infortunati e fisicamente distrutti? Senza parlare del fatto che ci possono essere più colpi di scena con cinque sostituzioni e quindi maggior spettacolo.

17

Fosse stata a maniche corte questa Icon sarebbe stata perfetta

1

Lui però l'aria del toro un po' ce l'ha 😅

Mi permetto di postare una foto della third fatta in uno store.

1

A me piace pure questa! Non è bellissima eh, però la giudico più positivamente che non.

Meno peggio dei primi leak. Ma mi chiedo da dove derivi questo design... il mio commento può essere solo questo: BOH! Tanto dovrò comprarla come sempre 😅 dato che negli ultimi anni ho sempre comprato tutte e tre le maglie, belle o brutte che siano state

1

Away da prendere con scudetto o senza secondo voi? A me piacciono le maglie "pulite", cioè con personalizzazione e per il resto meno "accessori" possibili, ma la Home la prendo sempre con le patch, mentre le altre dipende da come le trovo meglio.