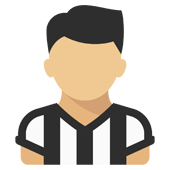 Content count

23

Joined

Last visited
Community Reputation
7
Neutrale
About Wynton

Recent Profile Visitors
The recent visitors block is disabled and is not being shown to other users.
Beh insomma, non proprio piccola, dal 96 al 2006 è praticamente andata tutti gli anni in finale scudetto vincendone solo due...stile Juve con le finali di CL Nel 2004 arrivò anche in finale di Eurolega e la perse ...concretizzò molto poco diciamo, però prima Myers, poi il Baso e Poz c'e da dire che la pallacanestro è molto più bella del calcio, tranne, ovviamente, quando gioca la Juve

Sono cresciuto con Basile e Pozzecco che purgavano

Arrigo e la sua realtà fittizia

anche a me piacerebbe tanto rivedere una bella partita della Juve, ma tutto ciò a mio parere non ha nulla a che vedere neanche con una minima parvenza di calcio. Un surrogato inutile e senza senso.

Tutti che lo insultano e gli danno del mediocre Ricordiamoci che nella famosa Juve Atletico dell'anno scorso a tratti sembrava Nedved nel 2003 e tiró la carretta avanti per diverse partite in quel periodo Non sarà un fenomeno, però secondo me se recuperato e messo nelle condizioni ideali credo che come minimo sia un ottimo rincalzo/jolly

Ma come fate a paragonare un incontro al bar (rispettando le norme di sicurezza) a 2 metri di distanza e con la mascherina , al contatto assoluto che sussiste in una partita di calcio ??

Marione Mandzukic dov'è ???

Forza Brindisi Il basket bolognese è la F

CR7 sposta decisamente qualsivoglia equilibrio, penso non ci sia giocatore più 'gasante' mai esistito Tolto lui, davvero difficile far un solo nome, oltre i nomi inseriti in sondaggio ce ne sarebbero davvero molti altri

Quanto sta rosicando? coda di paglia grande Giorgio! comunque fa ribrezzo pensare che questo giocatore ridicolo ha vestito la nostra maglia

Con qualche maledetta CL in più, come era giusto che fosse, secondo me si farebbe a gara attualmente col Real come club più importante e blasonato nella storia....oltre quella sfilza di record , tra l'altro incompleti, bisognerebbe ricordare robe tipo il contributo alla Nazionale, mondiali vinti grazie a 10/11 di titolari Juve, numero di palloni d'oro, quantità di campioni passati da noi con relativi record personali, quantità di cicli vincenti storici, bacino di tifosi in italia e nel mondo, appeal e impatto d'immagine, Fam. Agnelli (proprietà unica dal 1923), tradizione/stile, borsa, innovazioni recenti, fatturato/merchandising ecc ecc ca-zzo aggiustiamo il dato relativo a quella maledetta!

No, semplicemente per manifesta superiorità provi solo indifferenza verso taluni. Non capisco perché un giocatore simbolo della JUVENTUS debba dare tutta questa importanza ad una squadra/società ridicola come l'inter, che non vale neanche la nostra unghia del dito di un piede. E credo che anche molti tifosi devono ancora capire questo concetto.

Un fenomeno 32 anni, ha ancora minimo 2 anni ad altissimo livello chi dice "ormai no grazie" si merita desciglio adattato a sx a vita Come here Marcelo!