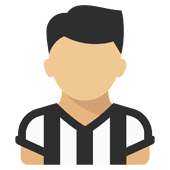 Content count

724

Joined

Last visited
Community Reputation
156
Buona
About Cro88

Ottimo il non accordo con Bernardeschi Per quanto riguarda Mandragora, va benissimo che il Toro non voglia riscattarlo, potremmo darlo al Verona per avere Udogie...

Sicuramente è una delle tante ipotesi

No perché viene preso dal campionato italiano ovvio. Sono 6 netti pieni....

Si desidera un De Jong o un Tielemans, anche per una questione d'età....

Ramsey dopo questa, dovrebbe vergognarsi anche solo di prendere uno stipendio

A sto punto tanto vale prendere Romagnoli....gratis e più giovane

Se preferiscono risparmiare sul centrale difensivo per fare ben altro e dove serve. Mi sta benissimo Acerbi. A me basta che potenziano all'inverosimile il centrocampo

Se Acerbi è il sacrificio per poter finalmente vedere un centrocampo come Dio comanda....si può anche accettare se i soldi per fare tutto, non bastano.

Allegri non ha mai giocato con un modulo fisso figurati. Più uomini con diverse soluzioni si trova, più soluzioni magari troverà

Romagnoli Udogie Savic Pogba Di Maria Perisic Arnautovic 7 acquisti con relative uscite. Si risparmiano tanti soldi con gli ingaggi liberati da Chiellini, Douglas Costa, Berna, Dybala, forse Sandro e si spera pure Arthur....l'unico acquisto costoso come cartellino diventerebbe Savic, è accetterei persino Romagnoli così....

conoscendo i suoi limiti, fa vita da atleta certo, ma 4 mln di euro l'anno per uno come lui è grasso che cola, chiaro che fa di tutto per non lamentarsi.... certo ora sarà costretto a dover scendere a forti compromessi se vuole rimanere, ma è preferibile accompagnarlo alla porta dicendo "grazie di tutto Fede, è stato breve e troppo intenso....ora insegna le giocate ad altri"

Allegri apprezza da sempre i bravi ragazzi(furbi) che sanno di essere scarsi e nel mentre, si fanno viziare dall'allenatore(fesso solo verso questi giocatori, furbo e più di altri sull'ingaggio).

Cro88 replied to Chemical Brother's topic in Cestino

ovviamente scherzo. Sicuramente le cose devono cominciare a cambiare, non è una questione di denaro(quello lo hanno sempre tirato fuori) è proprio una questione di lavoro fatto male negli ultimi anni, senza sapere il perchè. Prima risolvano quel perchè, poi magari cominceranno a lavorare come facevano in passato dal 2011(con fondi di gran lunga superiori).

Cro88 replied to Chemical Brother's topic in Cestino

magari l'ingresso di un nuovo socio di minoranza che possa permettere maggior liquidità?

Fa benissimo ad andare lì se lo pagano almeno il giusto per lui Se non fosse stato per i compagni, Dybala se ne sarebbe tornato negli spogliatoi a piangere da solo....