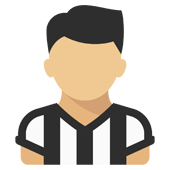 Giorgione Capitano
Utenti
Content count

2,052

Joined

Last visited
Community Reputation
660
Eccellente
About Giorgione Capitano

Giorgione Capitano replied to homer75's topic in EURO 2020

Apertura di Locatelli incredibile. Che giocatore.

Non lo vuole manco sua madre. Prende 7.5 netti l'anno. Con ancora ben due anni di contratto. Quasi impossibile darlo via pure gratis. A meno che non faccia un super europeo.

Può anche essere. Come può essere che sia stato incaricato di lavorare sul brand e sulle sponsorizzazioni. Per fare accrescere il fatturato nell'era post Ronaldo.

Ma non è questione di essere filosocietari. Basterebbe avere un minimo di buon senso e cervello. Arrivabene ha un curriculum importantissimo, e qui viene fatto passare come un deficiente. L' AD della Juventus ha dei compiti specifici: parte economica, sponsor, marketing, brand, crescita del fatturato. Non c'entra nulla appartenere al mondo del calcio. Basta vedere un Antonio Giraudo. Di esempi ce ne sono parecchi. Quindi giudichiamolo più avanti. Ma qui dentro si sono lette delle boiate da terza elementare.

Quelli che criticano la competenza di Arrivabene probabilmente si fanno lavare le mutande dalla mamma.

Non ci sarà nessuna rivoluzione perché manca il contante. Devono puntellare La Rosa con un paio di innesti. Un centrocampista di enorme personalità davanti alla difesa, un esterno/terzino sinistro, una punta (due se va via Ronaldo). Cedere gli esuberi sarà come al solito complicatissimo. In particolare Bernardeschi e Ramsey.

Kulu ha 20 anni. Qui in tanti lo dimenticano. Deve migliorare in alcuni fondamentali ma il talento è evidente. Chiesa sarà un giocatore epocale per la Juventus. Su Buffon è inutile aggiungere altro. Il portiere più forte di tutti i tempi.

Su Guardiola solo un decerebrato poteva farsi infinocchiare dalle fake news. Ha ragione da vendere. Quando l'idiozia supera il fantacalcio.

Giorgione Capitano replied to Giannij Stinson's topic in Juventus forum

Grande Giorgione! Persona fantastica e gobbo vero. E devo leggere pure post denigratori. Che schifo. 533 presenze. Leggenda.

Giorgione Capitano replied to The Italian Giants's topic in Juventus forum

Fate troppi allarmismi. Di questa Super Lega se ne parla da 10 anni. Non è nato tutto in una notte. Probabilmente è un grimaldello per riformare e sovvertire un certo tipo di ordine economico. Possono arrivare anche le squalifiche per carità. Ma verranno annullate quando a fine stagione si siederanno tutti a parlare.

Giorgione Capitano replied to The Italian Giants's topic in Juventus forum

C'è aria di tempesta quindi è logico mostrare unità. D'altronde è il proprietario. E credo che a nessun membro della Famiglia sia piaciuto il trattamento riservato ad Agnelli, nelle ultime due settimane. Potremmo anche aspettarci una piccola intervista nel pre-partita.

Probabile la squalifica dopo la finale di champions. Si preannuncia un'estate colma di aule di tribunali.

Va bene. Haaland tra ingaggio e commissioni sue personali al momento della firma, ne prende quasi 8 l'anno dal Borussia. E dovrebbe venire da noi e percepire quasi lo stesso stipendio. E gli asini iniziano a volare.

Manco ti risponde al telefono per quella cifra.

De Ligt è venuto da noi anche perché si prende 12 milioni l'anno netti o quasi. Un'enormità per un difensore tra l'altro così giovane. Infatti Haaland da noi non verrà mai. Andrà in Premier e verrà ricoperto d'oro per la felicità di Mino.