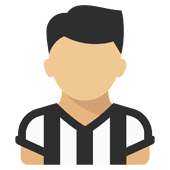 Content count

75

Joined

Last visited
Community Reputation
69
Buona
About Paolo81

Rank

Pulcino


Birthday

07/09/1981
Informazioni
Squadra
Sesso
Provenienza
Paolo81 replied to homer75's topic in Amarcord

A parte tutto...arbitraggio scandaloso...sicario

Paolo81 replied to homer75's topic in Amarcord

Questa è la netta differenza tra chi prepara le partite (ITALIANO) e chi no (ALLEGRI).

Paolo81 replied to homer75's topic in Amarcord

Che schifo lo zero assoluto sta * di squadra nemmeno contro le fogne ci mettono un po' di cuore...tutto da rifondare partendo dall'allenatore.

Ci credo dio bono...gli ha tirato una lecca smalling che deve ringraziare di avergli rotto solo l' lca, per giunta nemmeno punizione gli è stata fischiata...tanti auguri a Fede ma arbitraggio scandaloso ieri sera..forse era il caso di farsi sentire nel post partita ma come sempre si agisce da onlus...complimenti

Vu fate ridere, più che con cr7 io mi incazzarei con gente del calibro di ramsey rugani e compagnia bella che nn si schiodano da Torino nemmeno se gli dai la 104, almeno CR ha avuto il buonsenso di tornare da uno dei club che lo ha reso grande...quindi poche seghe mentali e fino alla fine!

Sinceramente mi sarei aspettavo paratici nel post che diceva pirlo nn è più il nostro allenatore e continueremo con tudor fino a fine campionato...invece nulla, vogliono proprio continuare a farsi/ci dell autolesionismo..VERGOGNA

Paolo81 replied to homer75's topic in Amarcord

Paolo81 replied to homer75's topic in Amarcord

Cosa * centra ora pirlo se abbiamo un squadra senza attacco...ma parlate seriamente, sono il primo che lo critico ma porta * come * si fa a giocare senza punte, già il centrocampo fa piangere viene a mancare anche l'attacco, tiri le somme e giustamente perdi così...lasciate perdere è inutile farsi il sangue amaro per il nulla cosmico.

A me quello che da più fastidio e che faccio fatica a comprendere è come * si fa a dilapidare un vantaggio clamoroso dovuto dal nuovo stadio, dal nuovo brand ecc ecc. In un solo anno. Ci ritroviamo invece indebitati, con un non allenatore, senza società e chi più ne ha più ne metta...sinceramente non capisco...è evidente che sotto il profilo della gestione qualcosa è stato sbagliato e come in tutte le società che fatturano qualcuno ci deve rimettere il posto che sia allenatore dirigente o altro. Poi al posto di 2 settimane di pausa nazionali, 2 settimane di ritiro gli farei fare a ste mezze seghe strapagate. Oggi è dura da digerire zio cane, durissima.

Ovviamente forca di massa a scuola e partita vista nel bar sotto casa...godimento allo stato puro...meritava il pallone d'oro quell'anno che poi assegnarono a Summer del Borussia Dortmund se non mi ricordo male...che scempio!!!

Eh vabbé ce ne faremo una ragione...