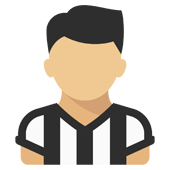 Content count

847

Joined

Last visited
Everything posted by RAEL
RAEL replied to homer75's topic in Amarcord

Ieri sera, a mio modesto avviso, sarebbe bastato avere Chiellini o Demiral al posto dell'inguardabile Rugani..... Detto anche che io vorrei vedere dalla prox stagione titolari DeLigt e Demiral.... Non ne posso più di Bonucci e delle sue girate di culooo..

Al club continuano a dire che le merdddeee hanno 6 punti di distacco... Interviene bergomi a dire che sono 7 per via degli scontri diretti... Poi vai a vedere la classifica... Juventus 63...Lazio 62...merdddqccie 54...danno il recupero con la Sampdoria vinto a priori... 😁

Partita senza storia pochi caxxi... Prima durante e dopo il gol le * non hanno fatto un caxxxo...

De Ligt senza neanche fiatare...e la prossima stagione, una volta recuperato pienamente, esigo la coppia De Ligt Demiral senza se e senza ma.…..

RAEL replied to homer75's topic in Amarcord

Boh....a me la squadra è piaciuta fino all'espulsione di Cuadrado....continuo ad essere ottimista per il resto della stagione.....arbitro in serata no in molte decisioni....Dybala segna o fa segnare Ronaldo e commentavamo altro...

RAEL replied to homer75's topic in Amarcord

Mah.. Tutto questo catastrofismo non lo capisco... Il secondo tempo di ieri, per me è stato impressionante, a parte il gol da comiche preso... É stato un assedio continuo da partita anni 70..quando in Europa le squadre italiane in trasferta superavano la metà campo due volte... Il pareggio è stato casuale...per carità ci abbiamo messo del nostro senza dubbio... Vediamo a maggio come finisce

per caso la fanno su sky?

Con i pantaloncini neri il kit home sarebbe bellissimo....altrimenti prevarrebbe troppo il bianco....la seconda è ottima.....la terza da farci l'occhio per così dire...😀

1

Esaurite in un niente.....volevo prenderla sul sito....non c'è stato niente da fare....speriamo la rimettano in vendita tra qualche mese....

RAEL replied to homer75's topic in Amarcord

Con la mediana messa in campo stasera non si poteva pretendere di più...mettiamoci pure Rugani (che spero con tutto il cuore a gennaio venga ceduto).... Ronaldo che in questo periodo tira ma non segna.....

RAEL replied to homer75's topic in Amarcord

Posso mandare allegramente a fare in chiulo tutti i presenti nello studio del postpartita di Sky....? No perché tra un po' diranno che abbiamo rubato la partita... Ste merdaxxe.... Capello poi è insopportabile.... Ma se lo ricorda il gioco che ci propinava con quel popò di squadrone...

Chiellini nella sua carriera ne ha fatte di entrate come quella di De Ligt ieri sera e ne ha provocati diversi di rigori... Lasciamolo in pace questo ragazzo che è fortissimo ed avrà tempo e modo per dimostrarlo... Ieri ha fatto un buonissima partita..la scivolata nel finale non la vedo come un errore.... É stata questione di millesimi di secondo ed avrebbe preso in pieno la palla con il piede....

Qualcuno riesce a postare una gif od un'immagine del fallo di mano, quello si netto e volontario, del prode Sansone..?? Grazie...

Quindi.... Rigore su De Ligt... Secondo giallo per Sansone dimenticato nel taschino.... Sky che fa vedere e dice che quello a favore del Bologna non è mai rigore..... E la Juve rubbaa.....Sono anni bellissimi... 😁 😁 😁

Che domanda ha fatto quel vermiciattolo di Stronxetti che sono in un ufficio e non posso vedere...grazie...

E' la società che, come sempre, mette le mani avanti per la Champions, l'allenatore riporta il loro modo di pensare sulla Champions, facci caso...stesse identiche parole di Allegri...

Cmq.....Crosetti....Gamba e la Della Valle....se la sono presa inder posto...della serie in c.ulo ti entra ma in testa no....

RAEL replied to giusardegna's topic in Amarcord

ma le formazioni ufficiali..?? ancora niente..??

Che bruttissima notizia...era un piacere leggere i suoi interventi...utente pacato ed educato. Il tuo idolo era il grande Gaetano Scirea....che tu possa abbracciarlo lassù Riccardo.

RAEL replied to homer75's topic in Amarcord

Allegri è indifendibile….Che caxxo lo mette a fare Dybala se gli fa ricoprire una volta il ruolo di mediano, una la mezzala, una il terzino….ieri gli ha fatto fare il quinto a destra….ma basta…..Cancelo in panca fino all'80....boh....Manzo deve giocare sempre….sempre....ecccchepalle….

Fratello caro stai tranquillo che se fosse stato al contrario quel frame e quel video li avresti visti sbattuti su tutte le homepage di tutti i siti sportivi e d'informazione come notizia principale da qui a 20 anni….... Forse forse interessare il buon Cruciani potrebbe servire a qualcosa…..

"La Juve c'era prima di Marotta e ci sarà dopo di Marotta, prima di Nedved e dopo di Nedved - ha detto il dirigente - Ci sono due tipi di dirigenti: i professionisti che possono andare a lavorare in tutte le squadre e quelli che non ci andrebbero. L'ho detto solo per quello". Ti voglio bene Pavel...ancor di più oggi rispetto a quando scendevi in campo….