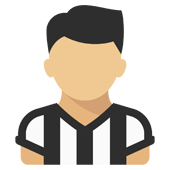 Content count

889

Joined

Last visited
Community Reputation
806
Eccellente
About RAEL

Rank

Primavera


Birthday

04/03/1963
Informazioni
Squadra
Sesso
Provenienza
RAEL replied to phoenix's topic in Cestino

Ho visto una partita ....Fisicamente è impressionante....

E niente... Severino si conferma ....un mito assoluto. Stella e statua al museo non bastano più....Lo voglio alle relazioni con i media....non devono intervistare più Paratici nel prepartita ma Severino...sarebbero uno spettacolo ed una goduria garantiti..

L'edizione odierna de "Il Messaggero", fa il punto sul caso tamponi in casa Lazio: non dovrebbero arrivare sconfitte a tavolino contro Juventus e Torino, che non si costituiranno parte civile nel processo, ma i biancocelesti potrebbero essere puniti con 4 punti di penalizzazione, come da richiesta della Procura Federale. In sede penale, la Procura di Avellino non ha riscontrato brogli. Dicevamo...??

RAEL replied to homer75's topic in Amarcord

A parte il primo tempo, dove cmq nei primi 15 minuti abbiamo tirato 4 volte in porta, di cui un paio, soprattutto una con Bernardeschi, potevano essere finalizzate meglio....con un rigore letteralmente regalato per un'ingenuità Chiellini e per due volte il secondo giallo risparmiato a Di Lorenzo....nel secondo tempo, secondo me, la squadra ha fatto benissimo, aggredendo da subito il Napoli e non concedendogli assolutamente nulla...secondo tempo, sempre a mio avviso, stradominato, peccato per i troppi errori sottoporta...ma non mi si venga a dire che il Napoli meritava di vincere o che ha fatto una buona partita ..assolutamente no. Peccato veramente perchè si poteva vincere in carrozza....

Severino si merita una stella all'entrata dello Stadium ed una statua all'interno del nostro Museo.....un grande.

RAEL replied to homer75's topic in Amarcord

A me la Juve è piaciuta moltissimo.....nonostante i 3/4 palloni sanguinosi persi da Bentancur.....Agnelli sembra dire..."Sei fuori cogghione"....

A questi gli abbiamo anche messo le medaglie al collo....che schifo.

Ma dell'altro procedimento per violazione del protocollo da parte di quella squadra lì....si hanno notizie??

RAEL replied to homer75's topic in Amarcord

A me la Juve è piaciuta....al netto di qualche leggerezza....A parte il rigore sbagliato, ma sostituire Ronaldo è reato penale...?? Doveri da 4....De Roon e Romero non dovevano finire la partita.

RAEL replied to homer75's topic in Amarcord

Ieri sera, a mio modesto avviso, sarebbe bastato avere Chiellini o Demiral al posto dell'inguardabile Rugani..... Detto anche che io vorrei vedere dalla prox stagione titolari DeLigt e Demiral.... Non ne posso più di Bonucci e delle sue girate di culooo..

Al club continuano a dire che le merdddeee hanno 6 punti di distacco... Interviene bergomi a dire che sono 7 per via degli scontri diretti... Poi vai a vedere la classifica... Juventus 63...Lazio 62...merdddqccie 54...danno il recupero con la Sampdoria vinto a priori... 😁

Partita senza storia pochi caxxi... Prima durante e dopo il gol le * non hanno fatto un caxxxo...

RAEL replied to homer75's topic in Amarcord

Boh....a me la squadra è piaciuta fino all'espulsione di Cuadrado....continuo ad essere ottimista per il resto della stagione.....arbitro in serata no in molte decisioni....Dybala segna o fa segnare Ronaldo e commentavamo altro...