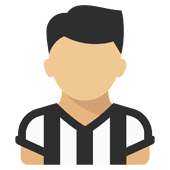 Content count

757

Joined

Last visited
Community Reputation
807
Eccellente
22 Followers
About The Young Pope

Rank

Primavera


Birthday

01/05/1982
Informazioni
Squadra
Sesso
Provenienza
Contatti
Sito web

http://www.fattoredicrescita.com
Bernardeschi è il nulla cosmico, almeno sarebbe un passo in avanti

Mettere Ake al posto di quella pippa invereconda di Bernardeschi sembrava brutto? In un quarto d'ora è riuscito a fare pietà perdendo una palla dopo l'altra.

Nel secondo gli si è sull'usato il ginocchio che non aveva più la stabilità da crociato. Non è detto che il menisco sia rotto ma ci potrebbe stare

Il crociato non si ripara, o si sostituisce o non si tocca.

Lesione o rottura del crociato sono la stessa cosa. Una lesione superiore ai 2/3 di un crociato rende il ginocchio instabile ed in un atleta va operata

Anticipato ieri, purtroppo era molto evidente dal trauma subito. Dispiace molto perdere questi calciatore per tutta la stagione, speriamo di averlo per la prossima

È molto appesantito e compassato nei movimenti, sembra sempre vada a rallentatore. Non so se è un problema di massa muscolare o massa grassa ma di sicuro non sta facendo una buona preparazione atletica

I giocatori non sono dei semplici impiegati ma sono asset della società e quindi non avrebbe senso rescindere ma al massimo ottenere un rimborso per quello che valgono. Gli stipendi dovrebbero essere proporzionati al valore del giocatore con relativi tetti, stessa cosa i premi ed i rinnovi. Un giocatore, secondo me, non dovrebbe essere venduto per 250 mln se ha uno stipendio di 1 mln di euro l'anno, per esempio! Stessa cosa non si dovrebbe comprare un giocatore per 10 mln e poi dargli uno stipendio di 20 mln di euro l'hanno. Se ci fossero dei parametri per valutare entro un range un calciatore e se ci fosse una uniformità tra stipendio e valore di mercato sia il venditore che l'acquirente verrebbero tutelati.

Cuadrado alterna grandi prestazioni a partite deludenti, prova sempre finte che poi gli fanno perdere la palla scatenando ì contropiede avversari, non ha più la corsa eccezionale di prima e mostra i segni dell'età che passa Bernardeschi continuo a non vederlo bene, fumoso, sbaglia passaggi semplici e goal davanti alla porta

Da anni ormai continuiamo a cambiare la formazione di settimana in settimana e di conseguenza si finisce per cambiare il modulo. Sulla base dei giocatori che abbiamo e di quello che hanno mostrato in questi anni, chi mettereste titolare in che modulo? E cosa più manca in questa squadra? Io penso che la formazione base dovrebbe essere questa: Szczesny Danilo Bonucci De Ligt Sandro McKenny Arthur Locatelli Dybala Morata Chiesa

Bentancur e Rabiot possono giocare ogni tanto e la presenza di uno esclude automaticamente l'altro. Per me un centrocampo sufficiente potrebbe essere Locatelli Arthur Cuadrado Dybala Chiesa

The Young Pope replied to homer75's topic in Amarcord

Ma se è opinione comune che Bentancur e Rabiot facciano schifo, perché continuano a metterli titolari e per giunta in coppia?

Il problema non sono i giovani o i vecchi o i titolari o le riserve, qui il problema è di squadra. La squadra ha calato di intensità nel secondo tempo, la squadra si è fatta fare un goal di testa con tutti i giocatori schierati, la squadra non corre, la squadra non si muove in modo armonico. Purtroppo queste sconfitte sono sconfitte di squadra e lo stesso allenatore e la dirigenza hanno le loro colpe.