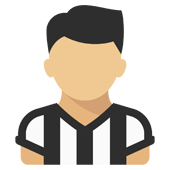 Content count

224

Joined

Last visited
Community Reputation
245
Buona
About Franzoman

Recent Profile Visitors
...dite che per tenerci buoni nella SL Florentino ci impacchetta Zinedine a Turin ???

Mettetevi l'anima in pace: la Juve farà l'Europa league, come è giusto che sia. Bastava vincerne una e pareggiare l'altra col Benevento tanto per fare un esempio. Giusto così, andiamo oltre....

Io proverei a portare a Torino ( dopo l'europeo ) Mancini...

Franzoman replied to paolo65's topic in Campionato

Gli abbracci sul gol vittoria hanno un significato importante.....

Allora, se uno va con la sua donna convivente non rischia un *, se uno fa un festino con 25/30 soggetti NON CONVIVENTI rischia di infettarsi e a sua volta di infettare altra gente della squadra. E così difficile da comprendere ? a volte sembra di stare all'asilo.......

Il modo giusto per bruciarlo. I giovani vanno inseriti in meccanismi rodati, non mandati allo sbaraglio...

Si ma se ne spendi 60 per Chiesa e quasi 90 tra Bernarda e Costa...è chiaro che nel mercato di riparazione non ci sia budget...

Ronaldo so 3 anni e non spiaccica una parola di Italiano, ne vogliamo parlare ?

Franzoman replied to homer75's topic in Amarcord

Certo che Coley seratona proprio, ha beccato due tunnel sui due assist dei due gol. Due in pagella ......

Plusvalenza (de) ambulante...

Fanno davvero * sia la home che la away.....

Allora ormai è lampante: Paratici ci capisce solo di difensori e attaccanti. Serve con urgenza un ds dedicato ai centrocampisti !!!! Aiutoooo

Allegri è talmente un grande che sono 2 anni che è disoccupato e nessuno tra i grandi club europei se l'è cacato manco di striscio. Quando è arrivato ha sfruttato gli automatismi e l'organizzazione impostata da Conte ed è andato avanti per inerzia facendo sempre peggio. Non dimenticate l'assurdo giropalla davanti la difesa ed il retropassaggio selvaggio applicato dai nostri negli ultimi 2 anni della sua gestione. Facevamo talmente * che non guardavo più le partite. Abbiamo vinto anche e soprattutto (solo in Italia) per la pochezza del nostro ridicolo campionato, ora suggerirei ai nostalgici del gabbione di horto muso ecc...di dare anche a Pirlo, almeno 1 anno così come è stato dato a Sarri, prima di esprimere giudizi; tenendo presente che Acciuga ha trovato una squadra che giocava a memoria, il maestro invece, solo macerie e tanti nuovi giocatori da armonizzare nel contesto. Buona vita...