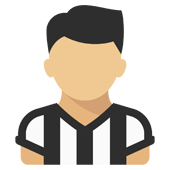 Content count

34

Joined

Last visited
Community Reputation
59
Buona
About JuventinEmigrato

Rank

Pulcino


Birthday

09/17/1973
Talmente ovvio che è stato assurdo vederlo. magari te lo puoi permettere quando hai costa e ramsey disponibili che li imbeccano, eh - ma oggi (con questo Bernardeschi) è stato assurdo

Io non sopportavo piu' Allegri, ma oggi l'ho rimpianto. Tutto quel fraseggio inutile e senza cattiveria. Poi se devi giocare con trentamila cross e negli ultimi 20 minuti fai solo quello, a questo punto scendi dal piedistallo e Mandzukic te lo porti almeno in panchina, visto che lo stai pagando e hai fatto la genialata di non convocare Ronaldo.

JuventinEmigrato replied to The Italian Giants's topic in Juventus forum

...e dando qualche sicurezza in piu' di cuadrado, diciamolo (almeno per quello che si e' visto in precampionato). Ma vabbeh - scelta che neanche io capisco.

JuventinEmigrato replied to homer75's topic in Amarcord

Szczesny 6,5 Oggi bene nelle uscite, contrariamente ad una settimana fa'... De Sciglio 6 Non è Cancelo, ma il suo lo fa' Bonucci 7,5 A mio avviso uno dei migliori oggi... Salva molte situazioni in extremis in una difesa un po' incerta Rugani 5,5 Incerto nel primo tempo, un po' meglio nella ripresa Alex Sandro 6 Il suo lo fa', ma non mi piace nell'occasione del primo goal, dove fa un intervento a vuoto Bentancur 4 Perde palle sanguinose e fa falli stupidi...Per me il peggiore oggi, mi augurerei di non vederlo in campo per un po'... Pjanic 6 Peccato per la traversa. Fa il compitino Matuidi 7 Oggi ha retto il centrocampo da solo...e non è la prima volta Bernardeschi 5,5 Oggi anonimo Ronaldo 7,5 Alcune imprecisioni ma il secondo goal si commenta da solo Dybala 6,5 Si sbatte molto piu' di altre volte e guadagna un rigore furbo Cuadrado 6 Peccato per quella discesa con scambio su Dybala...avrebbe dovuto tentare il tiro Douglas Costa sv Barzagli 6,5 Pochi minuti ma ci mette il mestiere ed è decisivo All Allegri 6 Il Migliore: Ronaldo

Gesto enorme. Io ieri manco me ne ero accorto. Ma vivo a Parigi, e stamattina mi aspettavo qualcuno mi perc*lasse per la partita. In realtà la sola cosa che mi hanno ripetuto tutto il giorno è stata "Gigi e' il piu' grande di tutti", "Gigi e' un esempio", "Gigi est très classe". Come dargli torto guardando le immagini... Spettacolo.