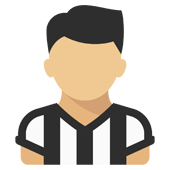 Content count

188

Joined

Last visited
Lasciate lavorare il mister e la società.....non sono degli sprovveduti. Nuovi stimoli, situazioni diverse quotidianamente, rispetto e gratitudine per chi c'era prima ma i cicli si esauriscono anche ed era necessario cambiare. Sarri è un lavoratore preparato ed intelligente come lo sono in società. Respect and halma!!

Tutto perfetto rispetto e riconoscenza infinite per Allegri!!! Orgoglioso sempre di questa dirigenza

Comunque per quello che vale, condivido che l'assenza di Cuadrado sia stata più pesante di quanto possa sembrare!!

Buona Pasqua a tutti!! Ottavo scudetto, leggenda ma come diceva il grande juventus1978......ne vinceremo almeno 10!! Prima o poi tutto riprende l'ordine naturale delle cose..... La Champions arriverà, intanto onore a tutti sia società che calciatori, tutti!!

zatarrra replied to Sylar 87's topic in Campionato

Insoddisfazione di tutto e sempre sempre, esistono gli avversari e gli stimoli. Il calcio è uno sport totale dove la componente psicofisica è predominante, ma è difficilissimo da comprendere. Siamo troppo troppo provinciali!!!!

Come la vedi in futuro una difesa De ligt-Romagna?

Come mai? Io volevo un giudizio sia sul calciatore sia sul professionista in questo suo percorso di crescita professionale al Cagliari

Grande Delsa mi parli un po'di Romagna, come lo giudichi e cosa ne pensi? Grazie

Ricordo Mandzukic nel Wolfsburg che picchiava sistematicamente un certo Chiellini in tutti gli scontri tra nazionali ed il chiello non è uno ne che si tira indietro ne che se le fa dare dal primo che passa, scontri epici

si tutto ok ma nel mezzo ci sono pure le nostre colpe eh, con l'inter vaccata di asa, con il milan senza nerbo, a genova....meglio fare un bagno di umiltà ed a firenze non si riusciva a fare un passaggio a 2 metri, poi si ok gli arbitri eh ma su pure noi con un minimo di mordente avremmo avuto almeno 4/5 punti in più, detto ciò è proprio vero che la fame non si compra e le energie psicologiche sono tutto.