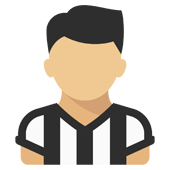 Content count

88

Joined

Last visited
Ma quando Dybala non controlla la palla avete notato Mr Spiaze a pochi centimetri da Paolo che urla?

Negli ultimi 10 minuti avranno fatto una decina di cross in area...dai su giocavano solo di ripartenza fatte male

Ok Dybala non ha tenuto palla al 94' ma non si può ridurre il pari a questo episodio...ci hanno schiacciati l'ultima mezz'ora e questo non va bene...primo tempo bene ma secondo tempo troppo difensivisti

bullo75 replied to homer75's topic in Amarcord

Cacciamolo prima di rimanere con zero titoli...riprendiamo Allegri e almeno il campionato lo vinciamo

Vedo che il virus ha bloccato tutti i settori tranne la macchina del fango contro la juve...meglio che non mi esprimo sarei bannato a vita

É vero lo avevo rimosso, chi ci siamo messi in casa

"Far vincere il Napoli è l'unica cosa che conta"

D'accordo che le parole non contano ai fini del risultato ma purtroppo io son di quei tifosi che quando la Juve perde senza giocare mi girano per parecchi giorni e invece di vedere il mister schiumare di rabbia e deluso lo sento dire certe cose sinceramente mi fa aumentare la rabbia

Il problema non è che ama napoli o è tifosi del Napoli, per me quando é a casa sua può anche indossare il pigiama del Napoli e vedersi tutte le partite dei ciucci ma quello che ha detto ieri non ha giustificazioni

bullo75 replied to homer75's topic in Amarcord

Cioè dopo una prestazione di m***a e una sconfitta bruciante per tutti i tifosi juventini, sarri invece di presentarsi in conferenza stampa arrabbiato e deluso si ritiene felice per la vittoria della sua ex squadra? Posso accettare una partita storta e una sconfitta ma non certe dichiarazioni

Ma qualche giocatore attraverso i social ha dato benvenuto a Sarri?

Sarà ma io Jorginho nelle partite che ho visto dal vivo sembrava giocasse al rallenty e i fans del Chelsea lo considerano come un de Sciglio qualunque, certo se Sarri convincesse kante a venire da noi, quello é un fuoriclasse

Sì quello che dici é vero ma un allenatore che ti porta Jorginho e Higuain e in conferenza attacca il giocatore più forte Hazard non si pone nei migliore dei modi nei confronti dei tifosi, Jorginho poi é uno scandalo e per il prezzo pagato...