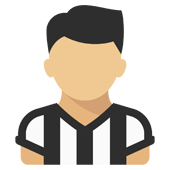 Content count

57

Joined

Last visited

Days Won

1
Community Reputation
105
Buona
About Lucifer_Black

Recent Profile Visitors
The recent visitors block is disabled and is not being shown to other users.
Fai come vuoi... Che ti devo dire... Manca ancora alla fine del calcio mercato e state dando gia giudizi negativi... Se a fine anno avrai avuto ragione ti domandero scusa... Ma aspetta almeno prima di andare nel panic a fine luglio... Poi oh liberissimo di fare cio Che piu ti aggrada

La confusione ve la causa il caldo... Fidatevi... Non mi pare Che nessuno di voi lavori con Paratici quindi nessuno qui sa una beneamata fava di cosa sta succedendo... Dai tornate a fare I tifosi e basta e lasciate il mercato a chi di dovere...

Maaaa a quelli Che si lamentano dell'inglese son poi gli stesso Che si lamentano Che non abbiamo appeal all'estero?

Sempre e solo Jap con sottotitoli!!!! anche secondo me lo voci nel 99% dei casi fan schifo!

Guarda io di anime purtroppo non ne guardo moltissimi per problemi di tempo... però ultimamente ho visto Dururara che mi è piaciuto moltissimo! Poi vabbe c'è Psycho Pass che merita e ci aggiungo Black Lagoon che è una storia abbastanza particolare Comunque si confermo l'anime di Tokyo ghoul è veramente deludente Spero ancora che qualche casa di animazione decida di rifarlo da capo magari perché il manga è veramente bello.

In effetti.... purtroppo han fatto un pessimo lavoro con l'anime...

Tokyo ghoul continua ad essere veramente interessante... leggetelo se non l'avete già fatto... e per favore non guardate l'anime se avete intenzione di leggere anche il manga XD

Black lagoon è veramente bello! Sono rimasto indietro e ancora fermo?

Lucifer_Black replied to *37allori*'s topic in Musica

Sono 16 anni che ascolto Eminem... Comprai la cassetta in viaggio sul traghetto dall'Inghilterra alla Francia... Che dire sono ancora innamorato perso dopo tutto questo tempo

Se tutti i topic fossero cosi sarei dalla mattina alla sera sul forum Troppo bello vederli felici

Lo chiamano Osbaglio... per me non è sto gran giocatore! Per me prenderlo è stato un bene visto la scarisità di giovinco e quagliarella. Ma a giugno si deve cercare qualcun'altro.