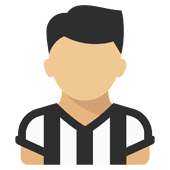 Content count

2,099

Joined

Last visited
Community Reputation
412
Buona
About mikerko123

Fagioli Rovella e miretti devono essere in rosa il prossimo anno!

Non capisco le lamentele sulla vittoria di oggi! Siamo contati... Mancano tantissimi giocatori e si gioca ogni 3 giorni! Oggi erano fondamentali i 3 punti... Un mese fa questa partita ci sarebbe girata male sicuro! Invece ora no... Ma qualè la differenza? I giocatori ci stanno mettendo corsa, voglia e cattiveria... Cosa che un mese fa non c'era! Vero siamo fuori dalla Champions.... Ma da gennaio con la rosa si spera al completo! Possiamo tornare in lotta scudetto, e giocarci coppa Italia ed Europa league!

Cmq va elogiato Danilo... Nonostante c'è il mondiale continua a dare tutto in campo! Lo stesso Bremer che nonostante sia rientrato da un infortunio non si sta risparmiando! Anche Kostic... Complimenti a loro!

Cmq per una volta Sandro fa la cosa giusta! Decisivo è stato con quel fallo

Va benissimo! Servivano solo i 3 punti oggi! E siamo a 5 vittorie di fila! Quanto era che non succedeva?

mikerko123 replied to giusardegna's topic in Amarcord

Ma se per caso... Una volta saremo totalmente al completo! Potrebbe metterli tutti? Tek Danilo Bonucci Bremer Cuadrado Pogba Rabiot Kostic Di maria Vlahovic chiesa

Io punterei tutta la vita all.europa league! Il Napoli ormai è troppo lontano! Poi sinceramente mi piacerebbe di più vincere un trofeo europeo! Inoltre la vittoria della Europa league ti fa entrare come testa di serie in Champions!

mikerko123 replied to homer75's topic in Amarcord

Una cosa va detta... Non era per niente un girone facile... E lo ha dimostrato il Benfica...

mikerko123 replied to homer75's topic in Amarcord

Beh a parte gli ultimi 10 minuti prima del 1-0 il Lecce non aveva creato niente eh...

Tek Danilo Bremer Bonucci Sandro Rabiot paredes Pogba Di Maria Vlahovic Chiesa + Milik, Locatelli, Miretti, Kostic, Mckennie Giudicherò allegri una volta che avrà questa possibilità! Se mai dovesse capitare di averli tutti! Gente è un altra squadra totalmente....

mikerko123 replied to giusardegna's topic in Amarcord

Mamma mia la rosa di stasera mette i brividi.... E c'è gente che dice che siamo i più forti....

Per me quando saranno tutti al top! Si potrebbe fare benissimo un 343 pensa sulla fascia sinistra avere kostic e chiesa e sulla destra di Maria e Cuadrado

Posso dirlo? Se andiamo in Europa league bisogna provare a vincerla! Da gennaio riavremo tutti! Potrebbe essere una grossa occasione

Ma secondo te Zidane e Tuchel farebbero tanto meglio? A parte si rifiutano di venire ad allenare una rosa del genere! Mica sono scemi!

Ma io non metto in dubbio che allegri abbia le sue colpe e vada cambiato! Ma non perché Allegri è scarso! Ma semplicemente non è la situazione adatta a lui! Infatti serve uno come Conte, ma se tanto ora non ti viene... Chi vai a prendere ora??