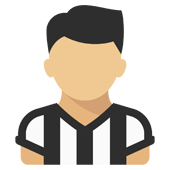 Content count

604

Joined

Last visited
Community Reputation
304
Buona
About elledani

Malissimo alla Juve, ma negli anni a Udine ricordo che fece discrete stagioni, fui infatti soddisfatto del suo acquisto. Peccato che poi tempo un mese e già lo odiavo

elledani replied to homer75's topic in Amarcord

Ho sentito dalla tv uno stadium un po piú attivo del solito, è così?

L'europeo era l'occasione della vita, spiace tantissimo.

elledani replied to homer75's topic in Amarcord

Non credo che questi soldi verranno impiegati sul mercato, ricordo che circa un mese fa la stessa Juventus ha emesso un comunicato in cui specificava che senza l'aumento sarebbe stato "difficile proseguire l'attivitá finanziara" o roba del genere.

Sei una persona molto cattiva

Un bravissimo ragazzo, in bocca al lupo

Solo stima e riconoscenza per un grandissimo campione. Chi lo critica si merita Amauri

Kante, anche se cinque anni fa non sarebbe salito neanche sul podio

Uccideresti il calcio, torna a guardare la tua squadretta please

191 milioni, rendiamoci conto. Mica è disponibile un quarto di milioncino per me?

Purtroppo i commercianti con tutte le spese fisse più le tasse non riescono a star dietro ai prezzi super che offre il colosso Americano. Alla gente non frega nulla delle capacità di marketing del commerciante, alla gente interessa il prezzo e va dove di paga di meno anche a costo di abbassare le opportunitá di lavoro.

Per quanto il servizio sia comodo rimango un fermo sostenitore del fatto che investire i propri soldi nell'economia locale sia la cosa migliore. I negozi chiudono e le vie principali rischiano di rimanere deserte nel giro di pochi anni, facendo diminuire i posti di lavoro già scarsi. Preferisco dare i soldi al piccolo commerciante che si fa il mazzo per campare anziché gonfiare le tasche di Bezos.