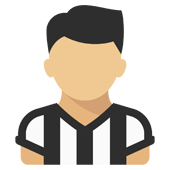 Content count

230

Joined

Last visited
Community Reputation
101
Buona
About DrughiJuve88

Rank

Esordiente


Birthday

08/18/1988
Prende 7M all anno, chi te lo compra?

Cuadrado DeLigt Demiral Sandro Arthur Bentancur Kulusevsky dybala Ronaldo Morata

Rabiot se non impara a usare il destro non puo' giocare in un centrocampo a due, deve senpre spostarsi palla sul sinistro e questo e un grosso handicap

Rabiot e stato ammunito perche il tiro finiva in porta

Arthur e Bentancur di un altra categoria rispetto ai compagni di reparto.

DrughiJuve88 replied to homer75's topic in Amarcord

Una cosa e certa.. Allegri aveva un chiulo grosso come una casa, Sarri al contrario ha una sfaiga tremenda, fortunatamente stiamo facendo risultato, ma nelle ultime 3/4 partite mancano un sacco di goal a nostro favore, prima o poi il trend cambiera'. Ronaldo come al solito si sveglia dopo dicembre, quindi non mi preoccupa piu' di tanto.

Ascolta, forse non ti ricordi dell anno scorso o comunque degli ultimi anni, non riuscivamo a fare 3 passaggi di fila, magari se hai sky te le puoi rivedere ci sono tutte, quest anno giochiamo a calcio, scambi rapidi, verticalizzazioni che l anno scorso non le vedevi mango pagando, puo' capitare che la palla non entra che i giocatori sono un po fuori forma ecc, ma non si puo dare la colpa a Sarri se la palla non entra, se il gioco di Sarri ti porta a fare 20 tiri e su venti ne entra 1 che c entra Sarri? Me lo dovete spiegare.

Allegri stava per perdere uno scudetto contro Sarri dopo che gli ha preso il suo miglior giocatore, allegri e un fenomeno Sarri un pi.la, ci e' arrivato dietro di poco con gli stessi 11 perche' le sostituzioni facevano pena, e andato al Chealsea con tutti che li remavano contro con Hazard gia venduto e ha portato a casa l europa league, e qui sento gente che rivuole Allegri che ad ogni partita che giocavamo mi addormentavo peggio del cinema, che le vinceva con colpi di fortuna che manco l ultimo che ha vinto l enalotto, magari non ha il buco di c di Allegri ma almeno sto vedendo il vero calcio, mi diverto, poi oh nessuno si e accorto dei falli in area manco controllati al var, cose che ti cambiano la partita, perche' se non ti controllano 2 falli in area e poi ti annullano un goal(annullato goustamente per carita) mentalmente puo pesare, ma diamo la colpa alla squadra e a Sarri, complimenti. Al posto di supportare e incitare, andiamo a denigrare, non va bene.

Ma guarda, secondo me e pieno di intrusi di altre squadre che si divertono a prenderci in giro, anzi lo spero se no e' preoccupante la cosa.

Ah quindi se arrivi 20 volte in porta e poi sbagli e' colpa di Sarri perche' sbaglia il tiro, magari ha il Joystick difettato, ma vi leggete quando scrivete?

Io la partita l ho vista tutta, Allegri l avrebbe vinta per chiulo con meta statistiche a favore, ma con Sarri si vedono cose che con Allegri non le vedevi, nel senso che l anno scorso sbagliavano passaggi ad un metro tra loro, ora e un bel vedere la palla gira da dio, arrivera' il periodo di fortuna per ora viviamo di sfiga e tutto sommato ci sta andando ancora bene.

La verita e' che il ciclo di Allegri doveva finire dopo la seconda finale di champions persa.

DrughiJuve88 replied to homer75's topic in Amarcord

Oh calmetevi, abbiamo vinto, l importante era questo, con il cambio che abbiamo avuto mi preoccuoava questo, ci vuole tempo.