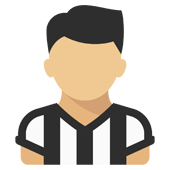 Content count

70

Joined

Last visited
Community Reputation
27
Neutrale
About robywan

Caro Asturias7, sai che siamo sulla stessa lunghezza d'onda: qua dentro spesso gli investimenti a medio/lungo termine non sono concepiti, si guarda solo ai "sessanta milioni lordi che ci impediscono di investire in pipponi italiani".. spero e confido in un rinnovo, per il calciatore, l'atleta, l'uomo, il brand CR7. con tutto quello che ne deriva. Grazie ancora per l'intervento, so che non scrivi mai tanto per scrivere

Resta - giustamente- con la mamma. E, tranquilli, si allena lo stesso. GOAT

Grazie @asturias7 come sempre sei il più affidabile su CR7...con buona pace dei creduloni italici che ormai vivono all'insegna del "moriremo tutti"...

Il vostro "comandante" non sa farsi seguire neppure dai suoi droni..e mostra segnali di resa.. Che tiri fuori le ppalle, qua non c'è più tempo e ci giochiamo tutto in due settimane!! Fino alla fine

robywan replied to homer75's topic in Amarcord

Eh ma siamo primi in campionato..primi al girone.. Ma andate a cagher voi e il vecchio in panca, che vada a guardarsi i cantieri coi suoi droni!!!

Basta con sto Donnarumma..costa uno sproposito, ci mette un'ora a tuffarsi e tra un paio di anni ti costerebbe più di dietologo che di ingaggio...

Anche perché marcare a zona sulle palle inattive è follia..anche all'oratorio si marca a uomo, senza se e senza ma!

Questo ai nipotini dirà: " vi ho mai raccontato di quella volta, che ho distrutto la Juve dall'interno, e mi hanno pure pagato?" Mi viene da piangere a vederlo sulla nostra panchina, non ha più alibi né scuse né tempo

Vedere la Juve marcare a zona sui calci d'angolo, mi fa inc...re come una bestia.. La base del calcio, anche all'oratorio..UNO A TESTA NO A ZONA vecchio talebano insulso con due schemi e poi il nulla!!!

Con la Lazio " è servita da lezione", ora si cambierà.. Stessa solfa col Napoli..e ora col Verona.. Ma lui, i suoi droni, i suoi dati...sto vecchiodemmerda prenda Paratici e andassero insieme a guardare i cantieri!!! Via dalla Juventus che fate solo danni!!!

Cristiano Ronaldo 2018/2019. Per tutto quello che ha significato il suo arrivo.

robywan replied to homer75's topic in Amarcord

Dopo la conferenza stampa post partita, il talebano non è più difendibile. "Abusivo" rende perfettamente l'idea

Purtroppo sì... Aspetto le giustificazioni da parte degli esaltati per il "comandante"..