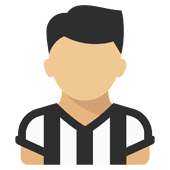 Content count

167

Joined

Last visited
Community Reputation
66
Buona
About robywan

Vista indossata dalle women: oltre i due metri di distanza ( perciò sempre, dal vivo o TV), le "righe triangolari" sembrano grigie con sfumature marroncine...che obbrobrio!!!

robywan replied to homer75's topic in Amarcord

Pensavo fosse impossibile vedere due rigori farlocchi nella stessa partita e a favore della stessa squadra.. Luamaro che aggancia Bonucci arretrando...!!! Ho spento al termine dei regolamentari ( audio tolto già a metà primo tempo) e sono andato a letto sicuro che avrebbe concesso un altro rigore così, acazzo, nei supplementari. Non sopporto chi dice "non lamentiamoci degli arbitri, non siamo prescritti"... Ragazzi con sta litania avete stancato, ci stanno prendendo per il c*lo da troppo tempo ormai! Certamente abbiamo le nostre colpe, allenatore, società e giocatori..ma ieri non abbiamo perso solo per demeriti. C'è stato un furto legalizzato.

Maglia bianca e grigia. Se scrivessi cosa penso della nostra prossima maglia, sarei accusato di blasfemia...

Oscena. Terrificante. Oltre cinque metri di distanza, sembrerà bianca e grigia...

La tuta è davvero bella..ottimo accostamento cromatico, mi piace

Certo che no, era una battuta.. è un po' strano , se non sei stato costretto a cambiare mano da bambino. Anch'io molto scoordinato col piede destro, ma a volte uscivano dei gol capolavoro, se ci ripenso non ci credo

Azz posso solo immaginare le tue difficoltà! Per fortuna abbiamo una marcia in più.. Un abbraccio!

Di che anno sei? Io del 72 e per fortuna non mi ha mai corretto nessuno. I miei nonni, entrambi mancini, scrivevano con la destra perché costretti.. Nel calcio e nello sport in generale lo considero comunque un valore aggiunto

Se fossero tutti destri, invece, nessun problema immagino... Io sono mancino "puro", mano e piede, sono più scandalizzato da Dybala e Chiellini che firmano autografi con la destra... Il problema sono solo i mancini scarsi.

Buongiorno, ho effettuato l'accesso (sono B&W) abbastanza velocemente, ma non riesco a selezionare il posto..clicco e niente da fare! Ho provato in vari settori. Qualcun altro sta riscontrando gli stessi problemi? Grazie

Ma veramente qualcuno acquisterà e indosserà sto obbrobrio di hoodeed jacket?!

Bravo Ceferino, preparati le cremine che tra poco ti serviranno.. tanto tanto.. specialmente quella con la H ben visibile..

Se dovesse andarsene prima della scadenza del contratto, sarebbe una bella botta anche a livello di immagine!! Se poi davvero vi aspettate che al suo posto arriverà Haaland o Mbappe... continuate pure a sognare, poi al risveglio vi ritroverete Morata o Scamacca..

Ho votato Chiesa, per completare il mio personale "mea culpa" : non lo volevo alla Juve, lo consideravo un muflone testa bassa, ed invece..chapeau, mi ha fatto ricredere partita dopo partita, impressionante la grinta, la determinazione, le pelotas cubiche. Bravo!!!

robywan replied to homer75's topic in Amarcord

Ciao, come sempre concordo con te su tutto... Se se ne va, sarò in lutto. E saranno lacrime amare quando i suoi detrattori ammetteranno che " sì beh in effetti era meglio se rimaneva"... GOAT .