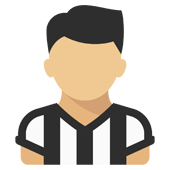 Content count

23

Joined

Last visited
Community Reputation
30
Neutrale
About wedras

Recent Profile Visitors
The recent visitors block is disabled and is not being shown to other users.
La vediamo in modo diverso e ci sta, io però penso che ci sia anche il fatto che gioca in un'avversaria, e si tende sempre a minimizzare quelli degli altri.Donnarumma è più forte di szczesny, senza contare che è un 99. Ripeto, per me da fare ad occhi chiusi

Se vai ad analizzare ogni singolo goal preso troverai anche delle papere di Buffon...ciò non toglie che sia stato un fenomeno, quello che può oggettivamente diventare anche donnarumma. E, vista com'è andata l'annata, noi di un portiere ne abbiamo bisogno, sempre secondo me eh

Stiamo parlando di uno dei top 5/6 portieri al mondo e potenzialmente top 1 preso comunque a poco. Perchè già te ne chiedono almeno 30 per AUDERO. Operazione da fare ad occhi chiusi

Hanno solo cavalcato l'onda post notizia...classicone

Che avesse la squadra più forte è vero, ma questo non toglie che il Napoli di Sarri fosse un avversario più che degno. Ha trasformato la juve da una squadra che usciva ai gironi col Galatasaray, ad una squadra top 5 d'Europa. Va bene così Inviato dal mio iPhone utilizzando Tapatalk

Tornerebbe uno degli allenatori più vincenti della storia della juve...fai un pò tu

Però il problema è un altro.. ovvero la paura che i cosidetti senatori contino sempre di più dell'allenatore di turno, come fu per l'Inter post-triplete

In realtà ritornerebbe uno degli allenatori più vincenti della storia della Juve. Ma va bene così.

Ma infatti penso che purtroppo andrà via. Dico purtroppo perchè messo nelle condizioni giuste, come ha ampiamente dimostrato, può fare molto bene. In realtà l'errore di valutazione è stato di chi gli ha dato "pieni poteri"

Non sono completamente d'accordo. A fare il suo mestiere è un top ha però evidentemente bisogno di un AD di riferimento, come era Marotta. Carnevali + Paratici sarebbe un bel team di lavoro.