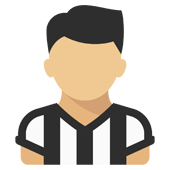 Content count

125

Joined

Last visited
Everything posted by yahjuve89
Ake....interessante Bravissimo Locatelli. Cuadrado è un giocatore molto sottovalutato. Avanti cosi. Vittoria a Sansiro per favore

Sono daccordo con te, I bei tempi sono finiti. Dybala ha la sua parte in questa storia comica, ma anche il top management ha la sua parte

Sembra che il caro presidente non ha piu la juve in mente come prima....non ci sono altre spiegazione

Gente strapagata per fare dichiarazione insensate...per criticare gente che hanno sempre onorato la maglia...

I cari juventini che esaltano per il mancato rinnovo di dybala...sapete con chi va sostituito???

Grazie Andrea Agnelli. Grazie mille.

Allegri o nessun altro allenatore, non è un maggo. Sono convinto che tutto colpa del top management, Agnelli e company...stanno pagando l'operazione Cr7, un'operazione fallita...Arrivabene è qui unicamente per gestire la crisi

Partita clamorosa, e per me un risultato inaspettato. Grandissimo l'americano

yahjuve89 replied to homer75's topic in Amarcord

Berna sta facendo davvero grande cose. Speriamo continui cosi. Buon natale a tutti e forza Juve

Magari. Mi è sempre piaciuto.

Lo dico da tempo....A.A è l'unico colpevole...si ha fatto un gran lavoro, pero ha fallito in mantenere la juve in alto.

Continuiamo dunque a seguire le partite senza entusiasmo, sperando che la stagione finisce presto...

Siamo tristi...non siamo squadra...sfortunamente è un altro anno zero... Nedved... credi che dobbiamo migliorare questi giocatori e non fare mercato?... cosa dice il nostro caro presidente??

Uno da Juve . È un bel gran giocatore e crescera ancora. Pero qui lo schifiamo anche lui... Forza Juve

Dai....qui si critica anche Khaby hhhhhh Buon natale ragazzi Forza Juve

yahjuve89 replied to homer75's topic in Amarcord

Abbiamo un chiaro problema li davanti. Mi sembra a.che un problema di testa..non di uomini

Tifosi che oddiano Del Piero, Buffon...non li capiro mai....

È tutto è colpa di A.A ed I suoi amici

Non ce nulla da dire....siamo stati umiliati. Il signor Andrea Agnelli pensa al super league, mentre facciamo belle figure. Mentre siamo 8 in campionato Mentre la squadra è a riffondare.