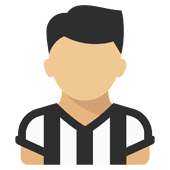 Content count

45

Joined

Last visited
Community Reputation
17
Neutrale
About leonokio

La moda milinkovic è terminata?

Ma hai assolutamente ragione. Stai parlando con uno juventino 😅. Ho detto solo che mi sembrava che il fallo fosse sul secondo tocco. Ma non essendoci nessuna conferma dalle immagini, il var ha fatto bene..

Intendo il secondo tocco, quando la stoppa. Tu intendi il primo tocco di vlahovic, dopo rabiot

Secondo me barella intendeva il fallo di mano di vlahovic prima di passarla a kostic.. Non ho visto tante immagini, ma quello ho avuto l'impressione che fosse veramente fallo di mano

leonokio replied to homer75's topic in Amarcord

Mi chiedo come mai non abbia giocato paredes

Si ferma continuamente chiesa ed è molto più giovane di lui, chissà quanto ci vorrà per tornare a regime..

ma non ho capito, viene registrato un documento con opzione di acquisto ma viene fatta una scrittura privata con obbligo di riacquisto. la juve lo compra e continua a lasciarlo all'udinese. dov'è il problema? sarebbe stato più grave il contrario o sbaglio? cioè, obbligo di acquisto, ma scrittura privata di opzione e mancato acquisto??

Perché kean non ha esultato la suo gol?

Non ho capito perché gioca perin?

a me sembra una manovra fatta per spodestare la dirigenza, come calciopoli. giochetti di palazzo a cui elkan è abituato..

Solo io ho notato Danilo capitano e non cuadrado? E da quando Bonucci è in panca, la difesa è più solida?

Ottimo.. Così la prossima volta il difensore ha il diritto di tenere la mano dell'avversario e indirizzarlo a toccare la palla. Così è fallo dell'avversario.. Basta adattarsi al regolamento.. Ah no.. Questo vale solo per l'intel..

leonokio replied to giusardegna's topic in Amarcord

L'ho sentita pure io questa storia.. Sarà vera??