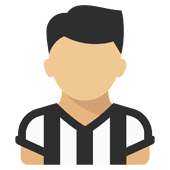 Content count

10,336

Joined

Last visited
Community Reputation
4,618
Guru
15 Followers
About azionistaminore

Recent Profile Visitors
The recent visitors block is disabled and is not being shown to other users.
Quello interessato a prepararsi per il mondiale e chiudere la carriera

Dragusin deve andare in B se vuole giocare titolare, non è pronto per la A

"Vincere l'unica cosa che conta? Certo, ma entrare in Champions League conta altrettanto."

Palmieri è più bollito di Sandro

azionistaminore replied to alexpremium89's topic in Cestino

Chiesa 15-20 goal non te li garantisce nemmeno in forma smagliante, figurarsi al ritorno da un infortunio pesante.

Fuori Bernardeschi e fuori Morata...stappo quello buono

Ha fatto la stagione della carriera col Chelsea e in nazionale e subito dopo è scoppiato. Prima è sempre stato un giocatore anonimo, il rischio è che quello sia il suo vero standard.

Se lo scambio va in porto complimenti alla Lazio Due profili mediocri di cui uno sulla via del pensionamento e in palese rotta con la società che riuscirebbero a sostituire con uno più giovane senza spendere nulla.

Zakaria lo abbiamo pagato, altro che parametro zero. 8 mln e spicci

Classico di chi non sa argomentare, buttarla in caciara sparando offese. chissà come ti credi furbo

Ma quale merito..hai scritto una pistolotto per difendere l'indifendibile. Adesso dovremmo accettare un Perisic 34enne lasciato andare a scadenza dall'Inter come rinforzo…e non stiamo ridimensionando? out Ronaldo dentro Kean…non stiamo ridimensionando? out Dybala dentro niente…non stiamo ridimensionando? A centrocampo non c'è mezzo giocatore credibile da 4 anni e stanno cercando solo giocatori in parabola discendente che devono rilanciarsi sperando di imbroccare un colpo di fortuna. Dietro rinnoveremo De sciglio quando nemmeno Danilo è all'altezza di fare il titolare. Se non c'è volontà di capire a che bassissimo punto siamo arrivati come squadra allora giusto guardale gli altri alzare i trofei.

Spendere male non è una cosa di cui vantarsi. Inogni caso la Juve è anche una società che vende. È bene ricordarlo perché i soldi per fare mercato vengono quasi sempre dalle cessioni e anche a gennaio due sono entrati e due usciti. Sareste capaci di giustificarli anche se riportassero a Torino Hernanes.

Siamo arrivati a prendere gli scarti a fine carriera dell'Inter, se non è ridimensionare questo non so cosa lo sia

azionistaminore replied to Vs News's topic in Cestino

Folle riscattare Morata qualsiasi sia la cifra.