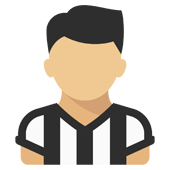 Content count

4,121

Joined

Last visited
Community Reputation
2,999
Guru
14 Followers
About azionistaminore

Recent Profile Visitors
The recent visitors block is disabled and is not being shown to other users.
Tecnicamente non si discute, ma da 1 anno e mezzo lo paghiamo per fare nulla. Se ci fosse una buona offerta non sarebbe un delitto cederlo.

La fiducia in Paratici è esaurita. Il mercato estivo è stato pessimo, non sembra all'altezza nemmeno quando parla con i media.

azionistaminore replied to homer75's topic in Amarcord

Demiral molto bene Bernardeschi molto male Rabiot penoso Dybala entra e cambia faccia alla squadra.

Come sia arrivato a giocare in due Top club resta un mistero

De laurentis si era abituato a fare il Capetto con i propri allenatori, Ancelotti non è così scemo da appoggiare certi comportamenti. L'esonero per il Napoli è una catastrofe finanziaria, ma evidentemente viene prima l'ego del presidente.

Tutta colpa dei ristoranti da 10 euro

Ma che prima della Lazio non si parlavano?...mah

Mal comune mezzo gaudio? Il city sta facendo una stagione deludente, ma non cancella l'aver preso un loro scarpone con una valutazione folle.

La vera domanda è "perché abbiamo buttato 34 mln su Danilo?"

Ci perculano e fanno bene. A Torino sono riusciti a dimezzare il rendimento di CR7, mica era facile.

azionistaminore replied to The Italian Giants's topic in Juventus forum

Rivoluzione in cosa? Non ci sono né schemi ne gioco, l'unica cosa che è cambiata sono i risultati..in peggio E con una rosa piena di over 30 non stiamo certo "seminando" per il futuro.

Se a parità di rosa tutte le statistiche rispetto ad un anno fa sono peggiorate il motivo è da ricercare nella guida tecnica. Come lo scorso anno si imputavano ad Allegri colpe per il non-gioco, è ovvio che oggi sia Sarri a rispondere dei suoi limiti.

Principio? 😂 Basta saper leggere. Leggiti le statistiche odierne rispetto allo stesso periodo di un anno fa, sono TUTTE peggiorate e non di poco.