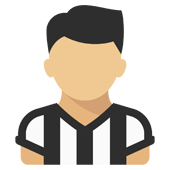 Content count

6,332

Joined

Last visited

Days Won

1
Community Reputation
1,876
Guru
About Costanzo

Fin là ci arrivavo eh... Ma il pranzo per me è una "distrazione" dalla partita, mangiando non sarei concentrato come vorrei essere quando gioca la Juve. Immagina se poi ci sono i familiari ai quali la partita non interessa e magari cercano di coinvolgerti nei loro discorsi... Anche se gioca alle 20,45 cerco di mangiare prima 😂

Sì vero è da correggere Beh la partita durante il pranzo non è il massimo, specie di domenica che magari è anche l'occasione per riunioni familiari... Io se sono solo o mangio prima o mangio dopo, ma se sei in famiglia...

L'avventura di Can alla Juventus è conclusa. Prendiamone atto. A questo punto almeno monetizziamo (cosa che con un Khedira gratis non faremmo)

Costanzo replied to IPA's topic in Musica

Come si fa a odiare i Queen?

Ci lascia una leggenda, lo stile Juve in persona. Condoglianze alla famiglia

Eh... Non dipende solo da noi

Sì Le squadre prendono, per sorteggio, un numero di tabellone (per esempio la Juventus ha il 2, la Roma il 7). Se due tra le squadre con numero da 1 a 8 si incontrano tra di loro, si gioca in casa della squadra con numero di tabellone più basso (ed è il caso di Juve-Roma). Se, invece, una di quelle otto sfida un'altra squadra di serie A, si fa il sorteggio. Prima degli ottavi erano state sorteggiate tutte le possibili opzioni, ed era uscito che si sarebbe giocato a Parma.

Costanzo replied to IPA's topic in Musica

Condivido entrambi... Tra gli italiani, che ascolto poco, trovo sopravvalutati i Negramaro

Ilicic (Atalanta) Ronaldo (Juventus) Immobile (Lazio) Lukaku (Inter) Belotti (Torino)

Eh fino a giugno 2021 ha il contratto con noi... Quindi bisogna sperare che torni ad alti livelli per essere tenuto in rosa o almeno per essere ceduto ad altri

Adesso nessuno si prende il rischio di acquistarlo definitivamente. Siamo obbligati a provare l'ennesimo prestito sono a giugno e poi si valuterà...

Va be', giocare lo stesso giorno era impossibile per questioni televisive... Non credo faccia grossa differenza dai...