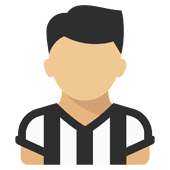 Content count

199

Joined

Last visited
Community Reputation
39
Neutrale
About serciu

Prima del Padovano di turno ci servono i titolari che ad oggi l unico certo e subito arruolabile è Vlaovic. La situazione non è affatto semplice speriamo bene.

serciu replied to giusardegna's topic in Amarcord

Ok non sapevo, sarà l'eccezione che conferma la regola

serciu replied to giusardegna's topic in Amarcord

Cose già viste negli ultimi anni.. Io mi auguro con tutto il cuore di passare il turno per poter giocare un quarto di finale che se hai un po' di fortuna ai sorteggi magari becchiamo una squadra con la quale ce la possiamo giocare. Se invece prendiamo una delle top quasi sicuramente verremmo eliminati ma almeno sarà con una squadra nettamente più forte.

Condivido il pensiero di molti che spesso le nostre partite sono una sofferenza, non siamo belli e siamo tutti d'accordo ma si vede un progetto ben preciso che sopratutto in un momento di difficoltà generale da più sicurezza alla squadra. Poi sono sicuro che tra un paio di anni torneremo a vincerle molto più agevolmente queste partite come facevamo nei primi anni di Allegri.

Non esageriamo accontentiamoci di arrivare magari terzi non mi aspetto di piu

Perché la gente gioca troppo alla playstation. Ci dobbiamo render conto che siamo in un momento molto critico dal punto di vista dei costi. Altre società negli anni passati hanno fatto molto peggio, navigando tra il sesto e settimo posto per diversi anni(le Milanesi su tutte)

Sono d'accordo su tutto, ottima disamina

Spero vivamente che non ricominciamo con i trentenni. Abbiamo intrapreso una strada che punta sui giovani già affermati e forti. Un suo acquisto striderebbe su quello fatto nelle 2 ultime campagne acquisti.

serciu replied to giusardegna's topic in Amarcord

Bene, dentro i migliori che possiamo schierare in questo momento. Spero in una partita gagliarda.3 a 0 doppio Vlaovic e Morata.

Lo dico a malincuore perché il Dybala dei primi anni era un gran giocatore. Ma alla soglia dei 30 anni sembra già in parabola discendente, poi fisicamente non è più affidabile. Quindi creo che potremmo salutarlo e prendere Raspadori che sicuramente non sarà un top player, però è italiano e duttile tatticamente in fase offensiva.

Sinceramente penso che proprio queste siano le partite dove Max sorprende sempre. Più è in emergenza e più vengono fuori belle prestazioni. Quando ha tutti a disposizione ha più il braccino corto. Confido in un ottima prestazione

Sicuramente è forte molto forte, ma andiamoci piano per essere un top deve fare 2 3 stagioni di gran livello. Troppo spesso si giudica in un senso o nell altro troppo velocemente. Le premesse sono ottime però non vorrei illudermi.

serciu replied to homer75's topic in Amarcord

Basta lamentarsi, con 8 assenze abbiamo vinto, le altre "Big" del campionato per ora ancora nessuna. Capisco le critiche ma facciamo i tifosi e sosteniamola fino alla fine.