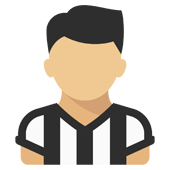 Content count

247

Joined

Last visited
Community Reputation
52
Buona
About Juventinazzo89

Per me sistemano la rosa con vari giocatori, come colpo in prospettiva, Haaland secondo me è molto più fattibile, i grandi colpi arriveranno a centrocampo, con Pogba, Eriksen e Tonalli.

Juventinazzo89 replied to homer75's topic in Amarcord

Ma è una mia impressione, o Conte prima di fare l'intervista ha pianto? Ha gli occhi lucidi 🤣

Juventinazzo89 replied to The Italian Giants's topic in Juventus forum

Che senso ha tenere fuori dalla lista Champions Emre Can, mentre uno come Matuidi che non sa cosa farne del pallone parteciperà nel torneo di calcio più prestigioso al mondo 🤔

Sarri deve andare in campo con la tuta, magari riesce a lanciare un brand con l'adidas, e quella tuta sarà mia 😁

Ultimamente sul sito difficilmente riesco ad accederci, mi compare questa schermata , ma più delle volte rimane bloccato anche per ore

Io ho fiducia per il comandante, Pep era il massimo, ma Sarri è una valida alternativa Welcome to Juventus Football Club COMANDANTE

Juventinazzo89 replied to homer75's topic in Amarcord

Non so se sono contento per la vittoria o per la immensa prestazione di Cancelo, ho la netta sensazione che questo ragazzo si sposterà in attacco come è successo a Bale, troppo forte Cancelo sono contentissimo di averlo in squadra 😁

scusate ragazzi ma dove posso seguire in streaming la conferenza stampa di CR7?

qualcuno mi può spiegare che cosa è sto versamento di 12 milioni per oneri e accessori secondo il regolamento fifa? tanto per sapere

1. Nisekoi 2. Bakuman 3. Cross game 4. Golden Time 5. Gosick 6. Great Teacher Onizuka 7. Hyouka 8. Sakurasou no Pet na Kanojo 9. School Rumble 10. Toradora 11. My Teen Romantic Comedy SNAFU

Gira voce che verrà ripreso l'anime ed è stato proprio tite kubo ad affermare ciò in una intervista, ci spero tantissimo onestamente e sono curioso di vedere il bankai di kenpachi e di vedere finalmente in azione unohana che nell'anime non ha mai mosso un dito, la saga della guerra millenaria sarà qualcosa di epico dove neliel e grimmjow chiedono aiuto a ichigo nell' hueco mundo che è stato invaso da certi quincy

Salve appassionati di anime, ho creato una community dedicato agli anime (cartoon giapponesi) su Line (un'app di messaggistica come whatsapp ma è molto più versatile e si possono fare tante altre cose) la community serve per dare o chiedere consigli su quale serie guardare, sono vietati gli spoiler, e nelle note mi occuperò personalmente di creare una lista completa dalla a alla z con tanto di descrizione del genere (es, fantasy, azione, horror, ecc) il gruppo non è a scopo di lucro ma solo per pura passione, per poter far parte della community è necessario avere Line poiché la community si trova all'interno di esso, qui vi lascio il link per entrare nella community http://line.me/R/ti/g/fmVEYbfWga

Come anime molto divertente ti consiglio sora no otoshimono, è un ecchi harem e ti assicuro che c'e da sbellicarsi dalle risate

Che genere ti piace in particolare?