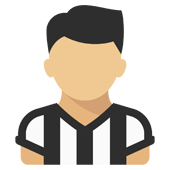 Content count

2,680

Joined

Last visited
Community Reputation
506
Eccellente
About Juke Luke

Recent Profile Visitors
The recent visitors block is disabled and is not being shown to other users.
A mio avviso è un giocatore da Juve, in quanto oltre ad essere un ottimo regista (con ampi margini di crescita), ha dei valori umani che alla Juve pare si siano persi. Mi auguro che arrivi possibilmente al giusto prezzo dal momento che abbiamo bisogno di un ulteriore centrocampista con caratteristiche diverse (per la precisione un incursore col vizietto del goal)

Lo so benissimo ma sono due anni che lo sbolognano quindi non darei per scontato che rimanga. Mentre De Sciglio ha già le valigie in mano, a meno che non rientri Allegri e io mi auguro proprio di no!!

Sono d'accordo, a patto che venga preso anche un altro terzino e che possibilmente non sia il palmieri il titolare.

Occhio a non svegliarti tutto bagnato però! 😅

A parte Romagnoli tutti nomi interessanti, Pogba non credo sia alla nostra portata

Ma io non ho parlato di denaro, ma di giocatori...Se uno bene informato e di solito cauto come Agresti si espone in questo modo su un asse Raiola Juve, credo che ci sarà una collaborazione per più di un giocatore...so benissimo che tra i nominativi non c'è di sicuro haaland

Facendo una previsione, quando Romeo cita un mercato Juventus con protagonista Raiola, a quali giocatori si riferisce? Mi immagino Donnarumma, ma non credo sia il solo...

Contrario alla cessione di Demiral, favorevole all'arrivo di Kean. Cedendo il turco si creerebbe un nuovo problema in difesa, non è facile trovare difensori del suo livello

Ottima partita, avanti così!

Sinceramente mi sembra fuffa allo stato puro...ma va bene così! 😅

Sempre favorevole a questo tipo di operazioni. Certo il centrocampo non può essere rinforzato solo con Traoré e Locatelli. Serve un profilo top

Se il prossimo anno riprenderemo Allegri ricominceremo a percorrere quella strada. Purtroppo molti tifosi vanno in brodo di giuggiole solo a nominare Max, io gli riconosco di essere stato un grande allenatore in una determinata fase storica della Juventus. Ora il calcio sta cambiando e si dovrebbe avere il coraggio di scegliere altre strade, per perseguire la mentalità a cui facevi giustamente riferimento. Manchester, PSG, Bayern, Real...nessuna grande squadra gioca con l'obiettivo del clean shit, degli 1 a 0 stiracchiati, dell'importanza del non prenderle...è un modello che funziona solo nel campionato italiano, ed è uno dei motivi per cui il nostro movimento è in una crisi spaventosa (insieme al fatto che manca la pecunia e il coraggio di puntare sui giovani)

Magari Gosens, altroché troppo caro...spendiamo quello che serve ma prendiamo un giocatore di grande livello, d'altro canto Alex Sandro sta avendo calo mostruoso! Con un terzino sinistro e un centrocampista top e una prima punta da alternarsi con Morata questa squadra svolta.

Juke Luke replied to homer75's topic in Amarcord

Finalmente una buona prestazione, bravi ragazzi!!