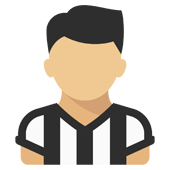 Content count

2,119

Joined

Last visited
Community Reputation
397
Buona
About LucaBN

Recent Profile Visitors
The recent visitors block is disabled and is not being shown to other users.
Credo che sarebbe una mossa intelligente, la approverei se si avverasse.

Sì ma alla Roma l'ha fatto vedere in 5 anni e in quei tempi il cartellino è stato pagato 15 milioni. Alla Juve dopo due anni avrà sicuramente un calo fisico (speriamo non prima) avendo 37 anni. Pagarlo 16 milioni a 34 anni e in un momento di crisi economica come quello che stiamo vivendo ora (dove assistiamo perlopiù a prestiti semigratuiti) è francamente eccessivo, a mio parere 10 milioni era una valutazione più equa.

Entro ora dalle 18... è saltato anche Dzeko? Si prospetta lo spettro Giroud? 🤢

LucaBN replied to Manhattan's topic in Cestino

E' veramente un parto l'acquisto di questo numero 9...

L'entità dell'infortunio di Alex Sandro?

LucaBN replied to CHICAGO BEARS's topic in Cestino

Draxler non verrà mai non tanto per le caratteristiche tecniche quanto per l'ingaggio altissimo che ha, non credo si voglia appensatire ulteriormente il bilancio.

E se alla fine fosse .... CR7 Dzeko Suarez Dybala Scherzo ovviamente...😂

Dzeko per il gioco che fa ci rinforza davvero tanto in attacco, McKennie secondo me sarà una lieta sorpresa e Kulusevski ritengo possa essere un crack, da lì mi son un po' sbilanciato forse. Concordo sulle necessità di una punta di riserva (spero Kean) e di un esterno destro (non saprei...)

Considerazioni.... 1) Sedici milioni per il cartellino di un 34/35enne sono veramente uno sproposito 2) A livello tecnico mi va benissimo Dzeko, avevo una paura matta arrivasse quel bidone di Giroud (in stile Hernanes, Anelka e altri scherzetti del passato dei nostri dirigenti) 3) Per quale diamine di motivo Suarez ha tutta sta fretta di prendere la cittadinanza italiana con annesso esame di oggi, vorrei che qualcuno svelasse il mistero 4) Mi auguro che nelle prossime sessioni di mercato si pianifichi qualcuno di giovane per l'attacco perché al momento abbiamo un 85 , un 86 e un 93 (che abbassa un po' la media). Per Kulu mi riservo di capire prossimamente il suo ruolo finale. 5) Personalmente a livello di rinforzi ritengo positivo il mercato finora, da 7.5. Mi lasciano perplessi i dettagli economici dell'operazione Dzeko (vedi punto 1) e una certa debolezza negoziale che mostriamo sovente nelle trattative di mercato (in particolare per le uscite). A voi

Ricordiamoci che Milik si è fatto due crociati, uno per gamba, per cui la Roma si vuole un minimo tutelare...credo anch'io che alla fine non ci saranno problemi ed in un paio di giorni ci saranno le ufficialità.

LucaBN replied to Anima-BiancoNera-'s topic in Cestino

A questo punto voglio sperare che nel caso di dipartita futura di Paratici, questi non vada a Roma. Altrimenti due domande me le faccio...🤔

LucaBN replied to Nate Fisher's topic in Cestino

Inaccettabile come chi tratti con la Juve riesca sempre o spesso a fare l'affare con noi, specialmente in Italia.

LucaBN replied to Anaksunamun's topic in Cestino

Lori ci lasciano al palo per de Sciglio e noi gli diamo 16 milioni per un grande giocatore ma pur sempre 34enne. #venghinosiorivenghino

Non ho mica insultato Momblano eh...😅 Anzi mi piace come racconta il calcio mercato, spesso ho dei dubbi sulla verosimiglianza delle notizie, STOP. Io non ho alcuna questione personale con lui, mi sembra che che sei tu che hai bisogno di una camomilla... E ripeto siamo in un forum e io posso esprimere le mie opinioni, non lo sto insultando dicendo che naviga sulle notizie per fare visualizzazioni. Passo e chiudo

Ho capito che dice che non arriva, ma allora è bene dirlo forte e chiaro e non generare questo hype clamoroso, perchè poi saranno sdentate forti...