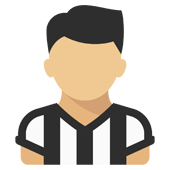 Content count

1,776

Joined

Last visited
Community Reputation
218
Buona
About PureReason

PureReason replied to starveling's topic in Cestino

@kranomed Per quanto riguarda la questione della nazionale , sono d'accordo con te . Non tiferò mai l'Italia dopo quello che ci hanno fatto e che , tutt'ora , ci dicono . Al mondiale hanno goduto grazie a molti nostri giocatori ... In quella finale , tra Italia e Francia , giocavano tantissimi bianconeri . Per quanto riguarda , invece , il duscorso su miglior difesa e miglior attacco , penso che i dati , quest'anno , non siano affidabili . Ad esempio , se non erro , abbiamo avuto a favore quasi gli stessi rigori dell'inter . I rigori contro , invece , sono stati molti di più . Quest'anno , secondo me , i dati non sono affidabili per via della regola sui rigori .

Lo cedessero per acquistare Alaba .

I miei saluti ad Andonio , il Gondoddiero . Vai Anduogno ! P.s. Non è che questi , se divesse presentarsi un nuovo caso di coronavirus , troverebbero il modo di fregarci ? Cosa è stato deciso alla fine ? Nel caso , come si agirebbe ?

Qualcuno ha visto la serie " Cagaster of an insect cage " ? Com'è ?

Sarà un guerra . Vediamo di vincerne una dopo l'altra . Speriamo , dai

In due / tre giorni ho visto Dorohedoro . Devo dire che mi è piaciuto molto . Certo , non si tratta di un capolavoro assoluto ma , comunque , non è niente male . Qualche altra serie dalle atmosfere cupe , gotiche , ( atmosfere un po' come quelle di Dorohedoro , Death note e Tokyo Ghoul , per intenderci ) esiste ? Grazie !

Esatto . È quello che dico da tempo . Quest'anno non si può sbagliare ! Non saprei se Milinkovic Savic sia il nome gusto ma , comunque , ciserve un giocatore giovane e forte !

Ci sono novità ? Grazie !

Anche a Gabriel Jesus , se possibile !

Quindi si potrà stare più tranquilli ? Il mercato verrà condotto " senza paura " ? Assisteremo a qualche colpo oppure assisteremo solo a scambi ?

Allegri , quando gli chiedevano se il numero di scudetti che aveva la Juventus fosse quello indicato dalla società , in maniera sarcastica , rispondeva " se conti anche la serie B , forse sì " . Ecco cosa rispondeva . P.s. Comunque era regolare anche il goal di Matri annullato per fuorigioco . Però non lo diceva ... Con quegli atteggiamenti ( che andarono avanti per un bel po' ) alimentava l'odio nei nostri confronti . Come fanno tutti , d'altra parte .

Lo stesso discorso si potrebbe fare per Conte , allora . Eppure credo che Conte abbia fatto la cosa peggiore che potesse fare . È andato nella squadra che ha beneficiato della nostra retrocessione e sta cercando di far vincere titoli a quei tifosi che ci chiamano ladri ogni giorno . Che chiamavano ladri anche quando era lui a farci vincere i titoli . Allora , se non sopporto Conte , dovrei avere la memoria corta ? Non credo proprio si possa fare un ragionamento simile . Sarri neanche dici ha detto una marea di cose . Allora , Allegri ? Ricordi quello che ci diceva ?

Beh , in effetti un po' il dubbio c'è . Troppi rigori ... Uno potrebbe dire che , se una squadra crea molto , logicamente , potrebbe avere tanti rigori a favore . Ma anche noi creiamo molto ... E non abbiamo tutti quei rigori a favore ...

Il mio timore è che non sarà l'unico . Temo sia iniziata una nuova era per loro , a partire dall'acquisto di Lukaku per 60/80 milioni . Speriamo non inizino a spendere davvero perché , come principale avversaria , preferirei qualsiasi altra squadra all'inter ! Preferirei veder vincere qualsiasi altra squadra , ecco ! Per questo mi è dispiaciuto molto il fatto che Marotta e Conte siano andati da loro . Stanno portando " concretezza " in un ambiente che " concreto " non lo è mai stato ...