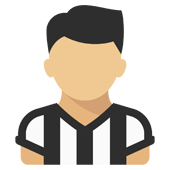 Content count

529

Joined

Last visited
Community Reputation
105
Buona
About O'tetracampeao

Della politica ci interessa poco,vale ciò che può dare alla Juve! per il resto bisogna soprassedere

Fa sbellicare il fatto che se 5/6anni fa qua dentro qualcuno avrebbe dato Sanchez per avere Mandzukic sarebbe stato internato! oggi invece......

Assolutamente perché a Sousa che vuoi dirgli? pero sono stati avvelenati contro di noi 😩

Per me sono solo quelli come Sousa e Kholer che in finale ci fotterono la coppa 😩

C'è solo una realtà OGGETTIVA: grosso sgravio di spese per la Juve! nel caso,monte stipendi alleggerito

Juventino,non juventino boh mi interessa poco! se uno guarda i suoi filmati oggi o ricorda le sue partite allora e fa il paragone con i top di oggi gli viene da ridere! la differenza di classe a favore del codino è MOSTRUOSA

In attacco Dybala Costa e Ronaldo a centrocampo Pjanic e Ramsey in difesa Cuadrado,Sandro,Bonnie e Chiellini con De Ligt mano mano a sostituire il Chiello a fine carriera per me da far fuori Khedira gradatamente fino a cessione

Nooooooo ve prego vojo la scuatra poderosa! mangiukicce e Khedira titolari indiscussi,le fighette al macero pjanic in giardino e Ronaldo va bene solo perché 1,87 squadra teutonicopanzer tutti cingoli

Cedere Emre Can e Rabiot e vedere in rosa Khedira e Matuidi mi provoca conati di vomito

O'tetracampeao replied to The Italian Giants's topic in Juventus forum

Nella Juve ci sono cose che non si spiegano,Can è un grande giocatore più dinamico,aggressivo e reattivo di Khedira! unica spiegazione possibile è che Sarri vuole uno più offensivo e di inserimento a destra dovendo schierare Matuidi a sx per coprire Ronaldo! l'UNICA soluzione a sua disposizione è Khedira! quando gli automatismi saranno migliori spero la ci giocherà Ramsey

Prossimo step aumentare la tecnica in mediana! fuori la mummia e lo scoordinato e dentro 2 giocatori di piede buono

Allegri lo ha distrutto ma a mio avviso lo ha anche completato! prima era un attaccante leggero,tecnico e letale ma un po' egoista,oggi è un nr10 completo bravo anche nell'assist! quello di oggi può diventare un top assoluto se mantiene certe medie gol

Quello che sta facendo Pjanic se lo aspettavano tutti quelli che conoscendo il giocatore speravano in un gioco diverso

Comunque,che non sa verticalizzare è già stato detto?