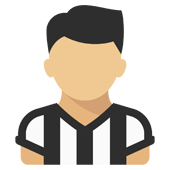 Content count

63

Joined

Last visited
Community Reputation
11
Neutrale
About allin1999

allin1999 replied to homer75's topic in Amarcord

E se fosse che non è più l'unico gallo del pollaio, con il gioco di Sarri? Mentre prima tutto girava intorno a lui?

allin1999 replied to homer75's topic in Amarcord

Le aspirine erano partite a tutto gas, mettendola sul piano agonistico, presidiando ogni zolla del campo con intensità, poi il loro naturale calo fisiologico, ha evidenziato la differenza tecnica. Se Ronaldo fa il Ronaldo e non si divora due gol già fatti, si chiudeva 5-0 ...Forse qualcuno avrebbe criticato anche un 5-0.😊😊

allin1999 replied to homer75's topic in Amarcord

Erano partiti a tutto gas...cercando di metterla sul piano agonistico presidiando ogni zona del campo...ma poi quando hanno calato il gas per naturali motivi fisiologici...è uscita la superiorità tecnica della juve. Se Ronaldo faceva il Ronaldo...finiva 5-0.

allin1999 replied to homer75's topic in Amarcord

Ma facendoli giocare in modo diverso!! E con risultato diverso!!

Ovvio l'universo sopravviverà a tutto e tutti 👏👏👏

In Europa ha avuto tutto il tempo per essere valutato. Venti parole possono essere sufficienti per valutare o meno una idoneità ad un tipo di gioco. E non cè bisogno di capire fave o fragole...lo dicono le sue prestazioni. Adoravo il Dyba Palermo...ma quello Juve Europa...mi spiace non lo vedo adatto.

Condivido dal punto di vista della tecnica ....ma non più adatto in Europa al gioco di oggi...

A parte i conti in rosso...che tutti i top club hanno, Il buon Dyba non è ritenuto funzionale al gioco. Penso ciò sia evidente. Inoltre leggi pure le parole di Nedved sulla sua vita da atleta.

Adatto per il calcio anni 80

Se salta la follia....avremo una lumaca in panchina e i conti rosso intenso.

Hai detto bene ....è rimasto ben poco...per il gioco. Molto ancora per il denaro da incassare.

È un video e stop, non fra i tantissimi ma assemblato per far notare certi suoi errori. Ovvio non ha la tecnica di Dyba...ma è molto più funzionale al gioco.

Fra un pò sarà pure da B ...anzi uno scarto del Mu....