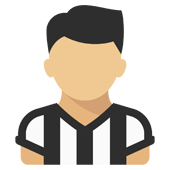 Content count

53

Joined

Last visited
Community Reputation
252
Buona
About pitbull26

Rank

Pulcino


Birthday

06/16/1991
Informazioni
Squadra
Sesso
Provenienza
se leo è bonucci, non sarà un 343? Rugani Bonucci Chiellini Bernardeschi McKennie Ramsey Pellegrini Chiesa Kean Kulusevski (con le ali di attacco che possono giocare così o a piede invertito)

Scusa, ma la terza formazione non è mai scesa in campo: Vieira non ha mai giocato con Ferrara e Davids. Se ti riferisci ai due anni di capello la formazione titolare era: Buffon Zebina Thuram Cannavaro Zambrotta Camoranesi Emerson Blasi(Vieira il 2°anno) Nedved (due tra) Del Piero, Trezeguet e Ibrahimovic Altrimenti se vuoi riferirti alla seconda juve di Lippi puoi tenere Davids e Ferrara in campo ma devi levare Cannavaro Vieira e Ibrahimovic

quella che arriva in finale di Champions league?

ergonomia /er·go·no·mì·a/ sostantivo femminile Disciplina scientifica che si occupa dei problemi relativi al lavoro umano in rapporto alla progettazione delle macchine e agli ambienti di lavoro, al fine di individuare le soluzioni più idonee alle esigenze psicofisiche dei lavoratori e al contempo a quelle della produzione.

pitbull26 replied to paolo65's topic in Campionato

Gollini strepitoso, Atalanta determinata e ci ha messo in difficoltà, ma comunque battibile, noi abbiamo prodotto tanto ma abbiamo sprecato troppo.. Ronaldo non penso abbia mai giocato così poco e male da quando è arrivato alla Juve. Gran gol di Chiesa e Freuler, però

pitbull26 replied to paolo65's topic in Campionato

comunque l'azione del goal genoano viene fatta tutta da pellegrini pjaca e sturaro ex juve o di nostra proprietà : )

Mah, non mi sembra che bayern monaco, psg, liverpool si difendano col 442, chi scala a centrocampo tra mbappè-kean-neymar? tra salah-firmino-manè? e tra sanè-lewandosky-douglas costa? (anche cheslea e ajax mi sembra giochino col tridente..) Invece, se i moduli si definiscono in fase offensiva e te hai un allenatore che fa scendere il mediano tra i centrali per poter alzare entrambi i terzini (salida lavolpiana) vuol dire la squadra gioca con 3 difensori e quindi il suddetto mediano di prima, non è un mediano, è un difensore centrale e i terzini (difensori) diventano esterni di centrocampo o addirittura ali d'attacco, lo vedi che non ha senso?

già pensa che per mantenere il 442 in fase difensiva, dopo i cambi abbiamo giocato con Rabiot a sinistra e chiesa di punta (già provato più di una volta nei minuti finali in cui non ci serviva segnare)

gli anni al manchester ha giocato prevalentemente come ala destra del 442 (sennò anche a sinistra o in coppia con rooney) a madrid ha inizialmente giocato ala sinistra nel 4231 con ozil al centro e di maria o callejon a destra, poi attaccante sinistro nel 433 con benzema in mezzo e bale a destra fino all'ultimo anno e mezzo che ha iniziato a giocare sempre con benzema, ma in un attacco a due davanti a isco, come ha giocato nella finale contro di noi, dove poi isco è stato sotituito da asensio, che è più ala destra ma è comunque andato a giocare trequartista per non spostare ronaldo sulla fascia. Poi ovvio che la giocata che preferisce è prendere palla sull'esterno ed andare alla conclusione, lo può comunque fare da seconda punta, dove trova anche le sponde e gli spazi aperti dal centravanti ma è evidente che il percorso è quello di avvicinamento alla porta, per sfruttare meglio le sue doti realizzative e ovviare al fatto che non difende più come quando giocava centrocampista in inghilterra

ho riguardato il video ma non lo vedo..

giovinco morata coman asamoah pirlo pereyra mattiello ??? padoin pepe ??? qualcuno ha la più pallida idea chi siano o chi potessero essere gli ultimi 2 giocatori?