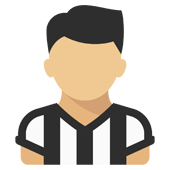 Content count

410

Joined

Last visited
E magari anche la bernarda...

Chi sarebbero i gioielli di famiglia? Gozzi e mavididi?????? X favore...

Be'...però...prova a metterti nei panni della società Empoli...era sicuramente giusto fare un ampio turnover, ma arrivare al punto di far giocare la juve D è troppo...

supergigi11 replied to homer75's topic in Amarcord

Fra i giocatori imprescindibili ci mettiamo matuidi , il palo croato, bonacci e cuor di leone pjanic? Solo x fare qualche nome...

supergigi11 replied to homer75's topic in Amarcord

È uno dei giocatori più sopravvalutati del globo....va , anche, detto che in quella posizione danneggi lui e la squadra...

Veramente....e il vate di sarebbe trovato la fantastica coppia rugani-david luiz....

Perché pensi che a Sassuolo la difesa di stasera nn regali niente?

Ma sono l'unIco folle del forum che pensa che saremmo in grado di riaprire questo campionato? be'...riguardo alla champions, nn ho le bende sugli occhi e non ci penso nemmeno con questo centrocampo...

Eh sì....molti stanno sottovalutando questa cosa...

Non sarà stato un fenomeno ma non puoi paragonarlo a quei 3 giocatori da lega pro che erano in campo stasera...

Si...analisi perfetta...aldilà dei 4 difensori ridicoli...i centrocampisti lasciano spazi allucinanti...

Non e' il risultato, non c'entra nulla il risultato di ieri , il vero discorso e' avere una squadra con tantissimi piedi fatati non riuscire a fare 3 passaggi di fila...con un pressing fatto alla pene di segugio , con 9 giocatori sempre dietro la linea della palla....senza mai una verticalizzazione...

Infatti vedremo le prossime squadre che allenera' questo pseudo fenomeno....

A mente fredda . tutta questa incacchiatura deriva personalmente dal fatto che , nonostante l'anno di cristiano ronaldo, la champions e' oggettivamente una chimera per l'ennesimo volta e hai un cristiano ronaldo in piu' (tra l'altro inguardabile da parecchie settimane...) ma hai un centrocampo con zero personalita' e quasi zero tecnica...questo e' oggettivo . e' un dato di fatto che va aldila' di tutto...