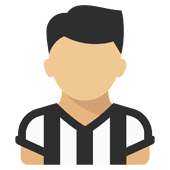 Content count

285

Joined

Last visited
Community Reputation
132
Buona
About mrhyde

Informazioni
Squadra
Sesso
Provenienza
Recent Profile Visitors
solo uno scarpone da cortile poteva sbagliare un gol simile...quando ,per sbaglio , ne segna uno inizia con le solite "ballate" tribali ridicole...ridicolo

Uno ce lo metto io ...Rabiot ...e non scherzo, gli altri saranno flop...questo fa danni

E' il Pupillo di questo pseudoallenatore...tra l'altro...e ho detto tutto

mrhyde replied to homer75's topic in Amarcord

Solo una cosa...le finte ,il dribling e l'assist di Juan valgono da soli il biglietto ..o no??

mrhyde replied to homer75's topic in Amarcord

Ma piantatela con sti piagnistei da prescritti .....

mrhyde replied to homer75's topic in Amarcord

vedere Pirlo che fa le "penne" davanti ad Allegri...e Allegri muuutoooo

questo tizio ,convinto di essere un fenomeno...e gia' questo basterebbe, gioca titolare in evidente sovrappeso ...siamo proprio alla canna del gas se un allenatore non ha alternative ed e' costretto a schierare questi personaggi...ma si daiii rinnoviamo

cosa ci si puo' aspettare da un allenatore simile?

mrhyde replied to homer75's topic in Amarcord

da esonerare subito...non se ne sta 4 anni seduto sul sofa'...se aspetti questo e il prossimo allora si...2 anni se li fa come gia' successo

Tre anni fa questo allenatore era riuscito a nausearmi fino al punto di rinunciare a vedere la JUVE....io che non mi perdevo neanche villar perosa....tanto per dire...non c'erano riusciti neanche Del Neri, Ferrara e Zacc ...siamo andati a riprenderlo...

Ovunque voi vi troviate ,al bar...in ufficio...tra amici...a scuola ...e perfino dal dottore ,se qualche frustrato vi attacca con l'argomento fategli risentire la Regina delle intercettazioni , Facchetti -Bergamo" 4-4-4...digli a Bertini di fare 5 " ribadita poi nello spogliatoio direttamente all'arbitro...dovrebbe bastare

mrhyde replied to homer75's topic in Amarcord

Ragazzi...sto guardando Fiorentina vs Prescrittese, vedere la fiorentina giocare e' un piacere...per voglia e applicazione se ci capitiamo sotto adesso 3-0 e a casa...se va bene, con i senzapa lle mosci che ci ritroviamo sono da andare a prendere a schiaffi loro e chi fa il mercato

ma lo vogliamo capire o no che sto fracese e' un inadeguato....lo dico fin dal suo esordio ...amichevole con il tottenham...entra e si fa fo t tere un a palla che neanche un bimbo della scuola calcio...zac tiro di Keane e gol partita (amichevole)...non sa leggere e gestire una situazione o una palla contesa , lento che piu' lento non si puo' , con Betancul una coppia di centrocampo da juve....U23 e forse neanche...chiedere a Di Canio che di calcio se ne intende

Che Spettacolo la Divisa...Spettacolo!!!

Vai a lavorare la terra sul trattore che la fiat ha regalato a tuo padre vaaa....