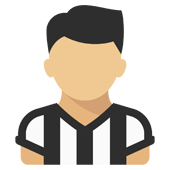 Content count

594

Joined

Last visited
Community Reputation
140
Buona
About MaxxOne

ecco. mancano solo l'oms e l'unicef contro di noi...🤣

MaxxOne replied to homer75's topic in Amarcord

La cosa che dispiace è sentire un allenatore della Juve che dice che deve giocare a 2 a centrocampo non perché a lui piace così ed è stato pianificato quindi, ma perché i calciatori che ha possono fare solo quello..

Ma davvero AA pensa che la cl potesse essere un obiettivo concreto per questa Juve? Ma l'ha vista la rosa ad inizio anno?

uno scandalo. non loro ma chi lo ha permesso

sarri dice che hanno fatto una grande partita. no comment

paratici deve essere licenziato. non ha dimostrato nulla. rosa incompleta costruita con scarponi mezzi rotti e costosissimi. la tanto decantata capacità di pescare giovani o comunque giocatori sconosciuti ma di grande futuro e/o rendimento si è rivelata solo una leggenda metropolitana

per chi giustifica queste oscenità in cl.. ma abbiamo preso CR7 per vincere gli scudetti o per provare a fare altro?

si vabbè.. partita scandalosa e ridicola già all'andata...

ma cosa dici? uscire agli ottavi col lione? il lione? non è umiliante? ma dai... alibi dei rigori..arbitri.. da perdenti solo per gli altri..

basta! non si possono più tollerare queste figure umilianti in champions league

MaxxOne replied to homer75's topic in Amarcord

Curioso davvero constatare che Cuadrado abbia piedi così poco educati.. sensibilità in passaggi lanci e cross davvero scadente.

MaxxOne replied to homer75's topic in Amarcord

Se lo vince pure sarri con noi.....

Ma la Juventus f.c. può avere un vero direttore sportivo?

Ripeto. Squadra sempre più brutta ogni anno che passa...possiamo vincere pure 100 scudetti di seguito ma non c'è soddisfazione per una squadra assemblata e allenata sempre peggio.. vorrei capire la direzione tecnica chi la fa? Paperino? O comunque qualcuno che conosce il calcio davvero così poco? Ovviamente è incredibile....