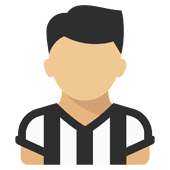 Content count

483

Joined

Last visited
dudemon replied to homer75's topic in Amarcord

Sintesi della partita della Juve: 1' gol di Vlahovic....poi il nulla!

E questo è vero...ma tu credi che con uno come Conte con gli stessi uomini staremmo a parlare dell'ennesima partita indecente?

Vediamo stasera il fenomeno che si inventa per giustificare l'ennesima prestazione umiliante...

Continuo a ripetermi ma io sono strasicuro che per quanto siano brocchi quegli esseri in campo che indossano una maglia gloriosa...se ci fosse stato Conte (..* quanto mi manca!!!) invece di un essere senza attributi (come già fatto notare da tale Tevez)..oggi staremmo a parlare dell'ennesima vittoria!!!!

Parole sante! Parole santissime!!

Tanto quella capra in panchina sa di avere le spalle coperte...pappa e ciccia con quello che di Agnelli ha solo il cognome

Vedendoli giocare spero davvero di nn entrare nemmeno europa League......un bel repulisti generale è meglio di questo scempio. Via Morata..kean.. Bentancur..rabiot..e altri vitelli che pensano solo ad ingrassare e dentro gente che magari nn avrà piedi buoni...MA CAXXO ALMENO IL CUORE CE LO METTE!!

E che vogliamo commentare...una squadra del genere è incommentabile. Eccola qui la politica di paratici e co...levare i giocatori migliori e prendere parametri zero nell'ottica della plusvalenza pensando che ci saremmo addirittura rafforzati. E quando si sono accorti che stavano con le pezze al c..o si sono inventati la superlega per fare cassa.

dudemon replied to homer75's topic in Amarcord

La cosa che fa rabbia è sapere che alla fine pagherà soltanto Pirlo..ma chi lo ha messo in panchina e chi alla fine muove i fili di questo schifo continuerà a fare danni anche il prossimo anno!

E che vogliamo commentare?!..il nn gioco?.. l'allenatore incompetente?!..la dirigenza pessima?..i giocatori strapagati che valgono zero?..da dove vogliamo iniziare?

Genio nn so se te ne sei accorto...ma abbiamo perso perché abbiamo fatto pena.

Ma quale risultato bugiardo?!..siamo scarsi..abbiamo giocatori inutili e un allenatore altrettanto inutile..

E che commentiamo?!.. l'ennesimo schifo?