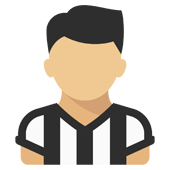 Content count

170

Joined

Last visited
Community Reputation
46
Neutrale
About Menzo

Menzo replied to homer75's topic in Amarcord

Gioco a tratti, ci manca ancora intensità e prendiamo veramente troppi gol... Anche oggi abbiamo concesso molto. Ben vengano comunque i tre punti.

Menzo replied to homer75's topic in Amarcord

Tre punti e avanti, pur di veder giocare bene la squadra sono disposto a non vincere lo scudetto, almeno per quest'anno. Dopo otto anni, onestamente, non mi peserebbe. Allegri non mi dispiaceva, anzi, eterna gratitudine ma era ora di cercare qualcos'altro.

Beh no, non era un paragone era una semplice constatazione. Detto questo la champions non hai mai garanzia di vincerla, ma di sicuro non puoi vincerla facendo i risultati dell'anno scorso, ossia perdendo il 40% delle partite disputate in competizione, per di più anche da squadre modeste, tipo lo young boys...

No, però devi ammettere che l'anno scorso ci asfaltarono, almeno quest'anno ce la siamo giocata.

l'anno scorso ci asfaltarono, o sbaglio? 😄

Aboliamo i calci piazzati!

Su su, possiamo solo migliorare, guardiamo il bicchiere mezzo pieno... lo scorso anno ci asfaltarono...

Menzo replied to homer75's topic in Amarcord

È finita la partita "uscitela" che è sabato! A parte tutto salviamo il punto e avanti tutta! Soliti catastrofismi visti e rivisti qui dentro. Buon weekend a tutti!

Menzo replied to homer75's topic in Amarcord

Con squadra in condizione al 62esimo eravamo 5 a 0, e loro hanno lo stesso allenatore dello scorso anno. Rimonta da imputare al calo fisico ed al fatto di aver pensato di averla già vinta. Si sapeva che bisognava avere pazienza, e ne servirà ancora, godiamocela per ora.

Urca leggo un sacco di catastrofismi ed ancora dobbiamo cominciare. Io aspetterei non settembre ma maggio dell'anno prossimo per tirare le somme. Di certo se perdo lo scudetto non mi taglio le vene anzi, personalmente, non me ne frega una cippa. È un anno di transizione, mi aspetto un poco di tutto, anche non vincere nulla.

Mi pare che, come al solito, ci si fasci la testa prima di rompersela. Credo che tutti i tifosi dovrebbero vivere il calcio con molta più leggerezza invece, ahimè, lo vivono come un fatto personale, dimenticandosi, alla fine della fiera, che contano poco nel sistema calcio. La società farà le sue scelte a prescindere da tutto i tifosi/leoni di tastiera perché, francamente, ci si lamenta qui ma da buono italiani qui resta, e vale per il calcio come in qualsiasi altro campo della vita italiana. Io credo che dopo 8 anni di vittorie un passaggio a vuoto ci possa essere, non ne farei una tragedia.

Berna è un bidone senza mercato, e per fortuna che la viola si è impuntata su Chiesa, altrimenti tratteremo un bidone più costoso. A noi serve un centrocampista tipo Pogba o milinkovic, quelli che abbiamo non mi convincono affatto.

Finalmente questa rottura di scatole sull'allenatore è finita. Come se uno o l'altro ci garantissero la CL. L'ultima che abbiamo vinto, vi ricordo, è arrivata con un allenatore che arrivava dal Napoli... La verità è che servono giocatori forti, e fortuna, nella CL serve di tutto un po'.