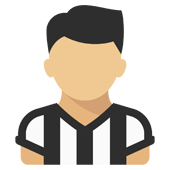 Content count

1,340

Joined

Last visited
Community Reputation
266
Buona
About Menzo

Pare sia accusato di violenza domestica...

Se prendiamo Nandez dobbiamo solo evitare di farlo andare in Uruguay, altrimenti lo arrestano 😂

Io credo che il discorso su Dybala sia anche tattico, se puntano sul 433 è difficile trovargli posto... La società sta anche valutando quello economico ovviamente, fare un quadriennale da un giocatore che va per il 29...

La cosa pessima è che Ramsey oramai bisognerà tenerlo come Khedira. E dire che resta, quando integro, il giocatore più tecnico del centrocampo con anche gol nelle corde...ma oramai siamo ai ferri corti, la società ormai lo ha estromesso e a lui pare andare bene. Probabilmente ha capito che la sua carriera è finita e non ha voglia di rimettersi in gioco altrove. Terminato il contratto, secondo me, si ritirerà qualche mese dopo la scadenza.

Menzo replied to super momo 22's topic in Cestino

Lo so che mi odierete, ma dal punto di vista puramente economico a giugno lo pagheresti almeno 20/30 milioni di euro di.meno...

Non ci resta che aspettare il 31, magari va tutto bene e Ramsey lo va a prendere il 31 a caselle con la Jeep. Visto che il Gallese non gioca mai, almeno facciamo fruttare il reddito di cittadinanza che gli elargiamo.

Menzo replied to TheRedDevil's topic in Cestino

Forse servirebbe addirittura più un centrocampista dai piedi buoni che Vlahovic. Non mi fa schifo Vlahovic eh 😂

La più brutta partita vista quest'anno, per "merito" nostra ma anche del Milan. Ritmi da dopolavoro ferroviario, poco qualità da centrocampo in su, pareggio risultato quasi scontato. Il secondo tempo è stata una cosa da campionato bulgaro.

A Rocco non fa troppo Er Gaggio... Ma chi è Er Gaggio? È uno che magna m e r d a e dice che sta a magna' formaggio! (Semicit.) A Baro non fa come Er cane de Mustafa'! Chi è sto Mustafa'? È uno co pija ar c u l o e dice che sta a scopa'! (Semicit.) Daje Dusan facce sogna!

Ormai è rimasto poco, o la va o la spacca.

Menzo replied to 🇮🇹IRR⚪⚫'s topic in Cestino

Out Aaron Ramsey In Gordon Ramsey La Juve ha il suo nuovo chef!

No il tuo "Igor" è anche il mio profilo uazzap! Lupo ulula' castello ululi' 😂😂😂😂

Menzo replied to homer75's topic in Amarcord

Ironia, per farsi due risate? Secondo te qual è la risposta giusta? Chiedi a Quelo.

Credo che l'unico consenso che gli interessa è quello della Exor. Detto questo dopo 800 milioni di aumento di CS, in gran parte coperti da Exor, credo sia il minimo che ad Elkann abbia tolto il giocattolo ad AA.