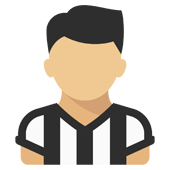 Content count

2,198

Joined

Last visited
Community Reputation
560
Eccellente
About Angel89

Ma chi lo dice ?? Maddai basta con questa panzana hanno appena preso Pinamonti come quarto

E invece c'è da commentare .. perché voi ragionate solo con adesso .. senza RICORDARE I prezzi sono aumentati a dismisura in questi anni per un Locatelli qualsiasi o Chiesa ti chiedono dai 40 ai 50 milioni 5/6 anni fa ti compravi 3 giocatori con quella cifra basti pensare a che cifra abbiamo comprato Tevez o Vidal anni fa

Intanto sono usciti i convocati della Roma: Dzeko convocato ufficiale! 😥

Ma infatti ti dirò ... come punta temporanea .. a me andrebbe bene pure lui a questo punto costerebbe anche meno di Dzeko.. molto meno ed a gennaio o l'anno prossimo ci provo per Suarez

E invece proprio Giroud 🤣🤣 non ci sono alternative i giocatori sono simili

Si insomma ... come Pjaca che era giovane ai tempi (peso da scaricare adesso) Rugani preso giovane e nessuno lo vuole adesso Higuain (che non era giovanissimo ma preso per 5 anni) Non è che se lo prendi giovane lo rivendi a prezzo maggiorato per forza eh di Pogba ce n'è 1

Si ma per 5 anni.. con Dzeko 2 soltanto e poi ciao non mi sembra questa oscenità stai pagando/hai pagato a vuoto Khedira, De Sciglio ed in parte Higuain negli ultimi 2 anni suvvia quante storie e soldi mica sono nostri

Angel89 replied to CHICAGO BEARS's topic in Cestino

Comunque ora la dico .. se devo spendere 16 milioni + 7,5 per Dzeko.. prendo Giroud con 5 milioni (massimo) e 3,5/4 di stipendio tanto sono uguali: alti uguali, età uguale giocano simile anche se Giroud segna ancora meno ( ma da noi devono segnare Ronaldo e Dybala) inoltre siamo in difficoltà economiche quindi risparmiamo..

Hai omesso Pellegrini. Si sta cercando di abbassare l'età media e il monte ingaggi, cercando di mantenere elevato il livello della rosa. Missione complicatissima, ma la strada si vede, l'idea è chiara. Speriamo sia quella giusta Giusto anche PELLEGRINI 20 anni mi ero completamente scordato e non ho incluso nemmeno ALEX SANDRO 29 anni che è comunque ancora giovane come calciatore

Ma com'era il discorso? Non siamo competitivi in Europa perché abbiamo troppi vecchi? adesso vanno bene i vecchi ma servono solo giocatori da 40/50 milioni?

Comunque facciamo un attimo un analisi il più possibile lucida: sono usciti ad oggi PJANIC 30 anni MATUIDI 32 anni HIGUAIN 32 anni PERIN 28 anni prestito ROMERO 22 anni e sono entrati ARTHUR 24 anni KULUSEVSKI 20 anni MCKENNIE 22 anni DZEKO 34 anni (molto probabile) lo scorso anno DE LIGT 21 anni e DEMIRAL 22 in rosa abbiamo ancora DYBALA 26 BENTANCUR 23 RABIOT 25 RUGANI 26 BERNARDESCHI 27 i più anziani sono in ordine: BUFFON 42 CHIELLINI 37 (alla loro ultima stagione) RONALDO 36 BONUCCI 33 KHEDIRA 33 cui sembra vicina la rescissione CUADRADO 32 SZCZESNY 30 PINSOGLIO 30 RAMSEY 30 COSTA 30 DANILO 29 DE SCIGLIO 28 a me non sembra male per niente come processo di ringiovanimento graduale !

Ma nessuno si è filato Di Marzio che ha detto Pjaca al Genoa? Penso prestito in giornata le visite mediche programmate?

Eh? Ma dove le tirate fuori queste cose? 😂

Comunque ho parlato con una amica siciliana che tifa Roma (si lo so è buffo ma è così 🤣) ed è disperata del fatto che Dzeko vada alla Juve .. anzi lo trova proprio scandaloso .. uomo di punta e capitano che chiude la carriera da noi ..insomma non male!

Angel89 replied to Nate Fisher's topic in Cestino

Scusate ma da dove viene questa storia di prendere anche Suarez dopo Dzeko?