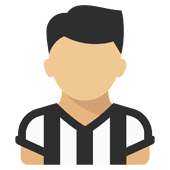 Content count

126

Joined

Last visited
Community Reputation
73
Buona
About Marquise

Recent Profile Visitors
The recent visitors block is disabled and is not being shown to other users.
Marquise replied to homer75's topic in Amarcord

non si poteva fare di piu contro questo PSG e con 14 indisponibili ... ma il staff deve spiegare perche abiamo tutti questi indisponibili. ottimo rivedere chiesa nel campo, ottimi i giovani ma con allegri sara dificile vederli in campo quando i vari mckenie e de sciglio sarano disponibili.

Marquise replied to homer75's topic in Amarcord

io sono solo curioso ... ma chi fa la ricostruzione della societa ? elkan ? i tifosi ? ... io non vedo nessuno capace e chi amma la juve. per fortuna siamo felici se cacciano allegri.

independamente di quelo che dice una e l'altra, questa juve non ha un gioco ... se giochi bene ma non fai il risultato si puo capire ... ma quando non giochi un ca**o e chiaro che non puoi fare risultati e non hai un futuro ... 1 tiro in porta e alegri ha il coraggio di parlare ?

ed io sono stato sospeso dal forum per tre giorni perche hai deto qualcosa contro Alegri ... ma va...

molta tristezza ... spero che possiamo rivederlo in campo a ottobre. in bocca al lupo Federico.

non ho deto che chiesa non e veloce ... ho solo deta che al mio parere e come ricordo io il CR7 di Sporting e ManUtd, cristiano era piu veloce e flamboyante ... non dico nemeno che cristiano era migliore ma io li vedo diversi ... chiesa e piu adato al calcio italiano.

per me il giovane cr7 era piu veloce e aveva il dribling in velocita e queste non li vedo a chiesa dybala non ha il fisico per il calcio italiano

e l'unico giocatore che mi ricorda di pavel nedved ... non e ancora al livelo di nedved ma ha il paso,la determinazione e la presenza in campo ... se continua a pedalare con umilta puo diventare un grande ... in bocca al lupo Federico

che folia ... io non capisco questo transferimento nemeno se e un cambio al pari con pjanic ... giocatore alto di 1,71m va a fare che in serie a ?

non tutti i giocatori sono i van basten o i ronaldo ma gli alenatori deve trovare le instruzione giuste per farli rendere al meglio delle loro potenzialita. anche messi falisce se vuoi farlo giocare da difensore centrale, per carita allegri non e stato l'alenatore di messi quando aveva 20 anni.

li ha fati quando non e stato spostato a centrocampo per far posto a mandzukici nei centravanti. non ti preocupi, io ricordo benissimo tutte le buone e mali di allegri.

la cura allegri ha distruto dybala

che ha primato la volonta del giocatore. conosciamo bene che tevez non e un giocatore che acceta presioni fati de la societa ... se non voglia giocare non gioca e basta, se vuole tornare a casa torna e basta ... e normale che marotta voleva tenerlo per un altra stagione ma amore con forza non si puo.

per quanto hai visto finche marotta e a la juve , il buon beppe non fa molti giocchi di parole ... se dice che il mercatto e chiuso , moltoprobabile (90%) il mercato e chiuso ... si e vero, se la juve ha una oportunita utopistica di prendere Robben a costo 0 o per 10 millioni il mercato sara aperto ma a questo punto credo che marotta non fa giocchi di parole. concentriamoci sugli alenamenti e le partite de preparazione.