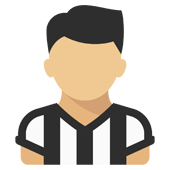 Content count

210

Joined

Last visited
Community Reputation
62
Buona
About monza bn

Boh, non lo so, si sceglie sempre deliberatamente di NON giocare due terzi di partita. Non sarò un vate, ma proprio non capisco.

Un altro po' di giropalla e portiamo a casa lo 0-1 Mezze seghe

Chissà perché a Lissone... Questa storia non mi piace per niente, dopo le ripetute porcate a favore dei prescritti. Ricordo vagamente lo scandalo sul VAR unico in Germania, qualcuno me lo può rinfrescare?

monza bn replied to homer75's topic in Amarcord

È la coppia Rabiot Bentancur che è deleteria. C'è una statistica di risultati con entrambe queste sciagure in campo?

monza bn replied to homer75's topic in Amarcord

Scelte di mercato: tenere tutti i * strapagati. Questa è la conseguenza. Quest'anno ci vuole fede.

4 perché: -Quasi tutti gli esuberi confermati e in rosa -Locatelli acquisito con un ritardo siderale. -Data l'impressione di immobilismo decisionale. Senza ricorrere a Raiola non avrebbero neanche rimediato numericamente alla cessione di Ronaldo.

Le poche volte che l'ho visto giocare ha avuto degli spunti sorprendenti... paragonato ai pachidermi scazzati della nostra attuale rosa. Non trovargli spazio per una ventina di presenze per far invece giocare i moscioni strapagati, personalmente mi sembra inspiegabile.

monza bn replied to homer75's topic in Amarcord

Grazie al cielo, non l'ho vista..

Certo che se non facessimo i retropassaggi di 40 metri portandoci la pressione degli avversari sulla linea di porta, ci sarebbero meno pericoli di errori tecnici da dilettanti. Comunque il centrocampo oltre a non impostare, non filtra adeguatamente.

Per capire quanto sia "non oggettiva" la valutazione dei fuorigioco, basta fare una statistica: quanti goal sono stati annullati alla Juve e quanti alle altre, per un pelo di c. in fuorigioco?

Già, ma è meglio se non mi esprimo sulla qualità tecnica di alcuni dei nostri strapagati giocatori

Mi aspettavo di peggio ma un 2 a2 così mi manda fuori di testa. Tutto quello che la sfiga può confezionare si è avverato. Ma la sfiga uno se la cerca.

Alla fine un paio di idee si sono viste, ma poi in un paio di giornate gli allenatori più esperti di lui (tutti) hanno trovato le contromosse. Resta di buono l'aver scoperto l'adattabilità di Danilo. Lo spettacolo era per gli avversari, le emozioni erano il veder condurre i portieri sulla nostra linea di porta: un costante gioco al contrario verso la nostra porta per mantenere sempre un possesso di palla fine a se stesso. Non è lo scopo del football, si dovrebbe segnare. Ricorderò i primi 30 secondi di Oporto, gli 0-3 casalinghi, la figura col Benevento e i forcing finali, per recuperare i risultati, fatti da retropassaggi fino al portiere. Senza le iniziative fuori schema di Cuadrado non saremmo neanche in conference league.