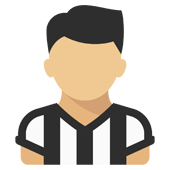 Content count

126

Joined

Last visited
Prendiamo di corsa bastoni e barella

Non vedo l' ora prenda il primo palo.....(cit.)

cocco is back replied to homer75's topic in Amarcord

La frustrante sensazione che ad ogni palla, i soliti, sandro, de sciglio matuidi, Cuadrado, ti facciano il disastro è davvero snervante

come penso io che tu di calcio capisca come io di astrofisica nucleare in tutto il forum non lo pensa nessuno amico...senza rancore non ti si puo' leggere..... QDPD

cocco is back replied to homer75's topic in Amarcord

si ok tutti bravi ognuno con la propria ragione......me riepilogando..... qui nel forum.... allegri non lo voleva piu' nessuno, quando si cercava il successore....inzaghi non sia mai, gasperini mihailovic, giampaolo idem, considerando klopp e guardiola impossibili, zidane ritornato al real,.... noi in alternativa...oggi.... chi dovremmo prendere???? no per capire.....

chiedo con l anno nuovo di vedere nelle file della juve soltanto... szczesny , bonucci, demiral, de ligt, cuadrado, pjanic, bentancur, dybala ronaldo , per il resto vorrei 15 nuovi forti e giovani calciatori per aprire un nuovo ciclo...

i terzini fanno vincere le champions, dani alves, carjaval, marcelo, t.a.a., bisogna prendere un terzino buono oltre che ovviamente due cc.... visto che almeno 5 sono praticamente quasi nulli alla causa juventus... (khedira, rabiot, ramsey, matuidi, can,)

E bhe... A dicembre siamo e possiamo tranquillamente dire che i vari ramsei costa rabiot can khedira mandzukic perin, piaca, bernsrdeschi, de sciglio, hanno inciso si e no lo 0.3 %

Lo dico da inizio stagione che abbiamo 15 giocatori inutili in rosa, e per una societa' come la juve e' gravissimo...

cocco is back replied to homer75's topic in Amarcord

Inutile fare tragedie per un pareggio post-champions, ci puo' stare non siamo robot, io mi preoccuperei molto di piu' per il futuro che non lo vedo per nulla roseo, in questo contesto duole ammetterlo ma tra inadeguatezza tecnica, eta' avanzata, propensione infortuni, abbiamo piu' di 15 calciatori non da juve... e li elenco pure... buffon, perin, de sciglio,rugani, chiellini, danilo, khedira, matuidi, rabiot, ramsey, pjaca, mandzukic, higuain, ronaldo, costa, e non sara' facile rimpiazzarli a dovere....spero di sbagliarmi quando penso che siamo davvero alla fine di un ciclo... che poteva portare oltre gli scudetti almeno un paio di champion purtroppo cannate

Aulla quando io stavo assiduamente nel forum tu non eri nemmeno in procinto di nascere

Vabbe ma cmq raga ci stava il rigore... Non darlo alimentera altra settimana di polemiche.... Anche perché ne hanno dato uno identico contro il Napoli poche ore fa....

Lo so che risultero impopolare ma a questa squadre con la miriade di occasioni che produce ogni partita.... Serve proprio un killer istinct alla Icardi

bacchetta magica, domani mattina ci ritroviamo senza perin, rugani, khedira, matuidi, cuadrado, mandzukic, higuain, pjaca, e con pogba e icardi easy and simple....

cioe' giorgio fammi capire... i gol dove vi sta un azione in velocita' dove ovviamente cambiano le variazioni di velocita' tra difensore e attaccante come umanamente logico... e conseguente gol proprio per l' intuito. l istinto la maggior velocita' scatto nel breve dell' attaccante... dici evitabilissimo....con la solita solfa della mancanza marcatura moderna elastica con la supercazzola a destra ecc ecc... mentre ad esempio...come ho visto il tuo giudizio su angolo il gol di de vrij dici che inevitabile perche' stacca piu' in alto????? cioe' il gol su palla inattiva??? gol su palla ferma??? inevitabile??? ma dici vero o siamo su scherzi a parte..??? ma hai giocato mai a calcio... io solo 30.... anni.......palle ferme che facilitano la marcatura dove ognuno deve avere un avversario da marcare con le buone o le cattive...e te prendi gol..e dici inevitabile??? io allenatore do de vrij in marcatura a tizio sugli angoli e quello segna io al mio difensore lo distruggo ma tu scherzi?? ma hai giocato mai a calcio o solo a fooball manager.... ascolta giorgio... capisco il tuo impegno in questo post... con continui aggiornamenti highlights immagini ecc... ma un consiglio..."sta senza pensier" fai altro....