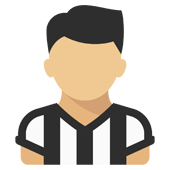 Content count

613

Joined

Last visited
Community Reputation
155
Buona
About crapenta

ma di Douglas invece, che si dice?

crapenta replied to homer75's topic in Amarcord

Mi piaci perchè ci credi in quello che dici.. bravo.

Max perdonalo, perchè non sa quello che dice..

La cosa che mi sfugge è in base a quale algoritmo non è dato di giocarsela in Europa. Perché lo dice Bucchioni e Pistocchi? Perché col Sarrismo avremmo più possibilità di vincere la champions. Cioè, una competizione dove contano gli episodi, la fortuna e tutto ciò che è imponderabile scopro che con zeman o sarri o giocando tutti all'attacco la posso vincere?

Lo scudetto lo vincemmo a marzo l'anno scorso, poi da li in poi tutti in vacanza o in infermeria. Il problema di Sarri è che siamo a febbraio e ogni palla che cade in area c'è da ca_gar_si addosso..

Quanto ci aveva ragione Allegri qui..

Ormai è soprannominato Costa Crociere..

Credo che paratici e nedved siano caduti con tutti e 2 i piedi nella trappola ben organizzata dai vari giornalai sportivi.. Non si è trattato di un cambio di allenatore, ma di cultura e non la puoi fare senza pagare un prezzo e con una rosa logora appagata e poco propensa al sacrificio. Se vuoi cambiare la cultura, ok ci sto, ma ditelo che vincere non è più una priorità almeno per i prossimi anni. I vari pennivendoli tanto che hanno provocato che alla fine qualcuno ci è cascato.

L'anno scorso dopo partite così ma con i 3 pt qui mi dicevano: sei contento così? Ribalto la domanda: siete contenti voi adesso così?

Le scorie di Allegri.. qualcuno lo ha già detto?

crapenta replied to homer75's topic in Amarcord

Lascia perdere che già hanno fatto parecchi danni..

crapenta replied to homer75's topic in Amarcord

crapenta replied to homer75's topic in Amarcord

Per dirne una.. con questo centrocampo scarso ricordo che negli anni passati si vincevano gli scudi a Natale o al più a febbraio.. E giocava pure Bernardeschi! Tant'è che certi dirigenti dicevano che questa squadra è difficile da migliorare.. però va bene, continuiamo a dare retta agli influencer..

Ma no, non rivoglio Max e nemmeno critico Sarri, dico solo che tutti coloro che scrivevano che abbiamo una Ferrari e un pessimo pilota o che: "anche se allenavo io vincevo lo scudo" dovrebbero fare un passo indietro. Oggi la scusa è che abbiamo alcuni giocatori scarsi, ma non mi sembra che li abbiamo comprati quest'anno..

Salvo solo la triturata..