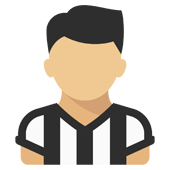 Content count

271

Joined

Last visited
Community Reputation
146
Buona
About Heretic

Se lo perdiamo per fare gli sparagnini mi altero. Se dilazioniamo il pagamento su più anni ci sta anche pagarlo una quarantina.

Negli ultimi 10anni Tevez senza dubbio. Pirlo è stato sublime, Ronaldo sapevamo tutti di cosa fosse capace ma mai mi sarei aspettato una tale ira di Dio quale si è rivelato l'argentino. Puro godimento.

Nesta e Maldini. Per l'attacco dico Batistuta o Van Basten

Quarti in campionato e CL. Vincitori Supercoppa. Semifinali coppa Italia.

Povero ragazzo. Sarà anche una pippa ma non ha chiesto lui di cedere cancelo. Gli faccio un grosso in bocca al lupo e spero che anche noi tifosi inizieremo presto a sostenerlo anziché considerarlo un mascalzone brasiliano.

Era così anche lo scorso anno. Siccome di Pirlo ce n'è uno, io preferirei strutturare la squadra con un centrocampo più dinamico, senza rinunciare alla tecnica ma, semplicemente, evitando la vecchia formula di avere un giocatore tecnicamente sopraffino ma di scarsa utilità in interdizione, affiancato da un fabbro ferraio.

Io mi prenderei il rischio di cedere Pjanic. È vero che tecnicamente è indiscutibile ma da un punto di vista di dinamismo fa sanguinare gli occhi. Moura è Ndombele non hanno la sua tecnica, ma con dei piedi leggermente meno educati (quindi ben oltre il livello dei vari Matuidi e Chiellini) hanno fatto quello che hanno voluto. Il sogno sarebbe Pogba - Can e Rabiot

Bonucci finché vale qualcosa

Heretic replied to homer75's topic in Amarcord

Ot: ma il city ha dato 7 banane allo shalke? Mecojo. Seratina leggera oggi 😂😂😂

Heretic replied to homer75's topic in Amarcord

Ot: ma il city ha dato 7 banane allo shalke? Mecojo. Seratina leggera oggi 😂😂😂

CR7 è infinitamente migliore, ma io (se non fosse per la t... succhiasoldi che ha per agente e consorte) wando lo prenderei subito... Se ben raddrizzato (con TANTO lavoro) potrebbe essere il degno erede di David...

No. Mancano Pogba e un 9 come lo è stato vialli. Con quelli diventa una roba da PlayStation

Heretic replied to Piersempre's topic in Off topic

Ciao a tutti... Volevo un consiglio per uno smartphone per mia madre. Non ha esigenze particolari, solo whatsapp e pochissimo internet col Wi-Fi di casa. Budget MASSIMO 150 euro. L'obiettivo è trovare qualcosa che "tenga botta" il più a lungo possibile. Lei tende a tenere le cose finché non si distruggono fisicamente...

Heretic replied to Giannij Stinson's topic in Campionato

Auguri per la figlia in arrivo. Per il resto stasera difensivamente maluccio ma il carisma che mette in campo è percepibile ed è un grande valore aggiunto. Va tenuto conto, ha un'influenza senza dubbio positiva sui compagni di reparto.