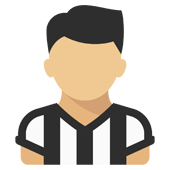 Content count

2,467

Joined

Last visited
Community Reputation
526
Eccellente
About dankos2

Concordo, pero' mi sembra giallo il ciuffo dello svogliato.

E' un ottimo protettore del pallone, vedremo che ne verra' fuori, d'altronde gli altri centrocampisti che abbiamo non e' che siano gran che', insieme a Locatelli potra' far bene.

Una mandria di scalda poltrone, ma non avranno cose piu' serie a cui pensare tipo a chi non arriva a fine mese o al rincaro delle bollete di gas e luce?

Del Piero l'ho sempre giudicato un ragazzo intelligente e dotato di buon senso, prime qualità per riuscire in qualunque lavoro, per cui ritengo che riuscirà ad esercitare bene il mestiere, se ciò avverrà sarei strafelice di vederlo alla Juventus.

dankos2 replied to homer75's topic in Amarcord

Perche' dite brutta partita? a me e' piaciuta, abbiamo dominato con quel che abbiamo e non e' cosa da poco. rendetevi conto che il mister sa cavare il sangue dalle rape. SE vuoi vendere le mele le devi mostrare.

Inda e Napoli come rosa ci superano.

E che ne sai se ha subito in silenzio? In ogni caso gli allenatori sono dipendenti, tu sei abituato a discutere le decisioni del tuo datore di lavoro?

A me la partita è piaciuta, poi abbiamo anche vinto, vado a letto contento e faccio no stravizio.😁

È che noia sta Champion, importante è giocarla, se la vinciamo bene, se non la vinciamo pazienza, sarà Orr un altra volta, c'è chi sta anni senza parteciparvi e vive di ricordi, in fondo siamo l'unica squadra che ha vinto tutte e tre le coppe, Champions, coppa Uefa, Coppa delle Coppe.

dankos2 replied to - IL CAPITANO - DYBALDO -'s topic in Juventus forum

Si, sostanzialmente lo credo anch'io, spero solo che la Juventus non venga venduta agli arabi, nel caso, a malincuore, smetterei di seguire il calcio.

dankos2 replied to - IL CAPITANO - DYBALDO -'s topic in Juventus forum

Il futuro del calcio italiano? Con questa crisi economica le migliori societa', spero Juve a parte, saranno preda dei fondi di investimento esteri che guarderanno il calcio sulla base dei ritorni economici, le altre si arrangeranno come possono.