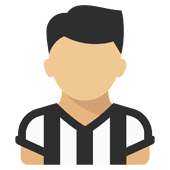 Content count

1,317

Joined

Last visited
Community Reputation
335
Buona
About Zebralcolica

Recent Profile Visitors
Per me manca corsa, l'americano quando ha giocato centrale davanti ha garantito qualche goal anche importanti. Ha limiti nella gestione del fisico evidente, però in una stagione che forse non ha senso perdiamo dinamismo. Ci manca sempre quello già dai tempi di Pirlo.

Zebralcolica replied to homer75's topic in Cestino

Mi dispiace. Il mio è merdista. Sono stato tentato più di una volta di bloccargli Dazn. che per la cronaca da quando ha vinto i diritti in esclusiva non abbiamo vinto più nulla. E anche al primo anno con loro su Dazn ci sono state le nostre peggiori partite o quasi. Io non ho rinnovato da dopo il mondiale. serve qualcosa come per GameStop, una rivoluzione social! Facciamoli fallire

Me pare un rabiot con una madre meno sveglia. Sarebbe l'ennesimo che non corre a centrocampo

Zebralcolica replied to homer75's topic in Amarcord

Secondo me vinciamo lo scudo.

Bah credo che l'unico sia Ranieri o uno dalle squadre giovanili es. Montero

Che squadra di 💩. Incredibile come Gasperinj non riesca ad essere il più antipatico. Cavolo come vorrei dargli due schiaffi

Ma poi sti centrali dell'Atalanta che poi appena cambiano squadra fanno schifo chi li prende più ? 70 mil? Ma nn sa stoppate un pallone.

Beh su spina ci fai parecchio. Sempre rotto rimane. Cancelo fenomeno. Per me . Demiral ignobile. Se il polacco imparasse a parare. Si sa come gioca Gasp a uomo, bastava che lo spagnolo ogni tanto prendesse la porta sullo spazio lasciato, ce ne era anche parecchio.

Allora tifo per Putin. Che stavolta non sia lui a tirare la bomba

Per me può rimanere ad Istambul a fare i saluti ad Erdogan. Magna prosciutti a tradimento.

[email protected]

Zebralcolica replied to homer75's topic in Amarcord

Quotarti è poco. Che brutto spettacolo. Che squadra di effemminati che siamo. Nessun fallo protesta. Zero agonismo e un gioco sempre più inesistente

E in entrambi i casi è stata una cosa giusta dopo averli rinnovati in maniera "delinquenziale".

* ma un esterno sinistro. Invece di prenderne dieci a destra. Serve uno che giochi a sinistra. E basta con Rabiot che guarda sempre l'avversario che va in area. Ma si può ? Ma lo vedo solo io? Ma anche in nazionale ha fatto schifo. Ammettiamolo e cacciatelo. No dico Berna che è invendibile, ma a costo di pagarlo per andarsene, fatelo!