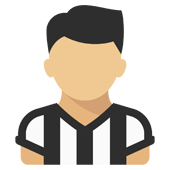 Content count

1,152

Joined

Last visited
Rugani non ha mai giocato e la partita che ha giocato non ha fatto male. Fa il 4 difensore centrale, va bene. Il problema della squadra non sono i centrali. Semmai che stanno troppo bassi.

Si, ma anche perchè scordatevi che vanno a spedere 20 milioni di per un terzino. Non ci sono soldi.

matts88 replied to SuperT's topic in Cestino

Secondo me qua con la situazione economico-finanziaria, la nuova linea, e i possibili rischi legati alle inchieste, altro che vlahovic e tchouameni. Bisognerà essere molto bravi a fare mercato con poche risorse e a prendere giocatori da valorizzare

matts88 replied to homer75's topic in Amarcord

Szczesny 6 Danilo 5 Bonucci 5,5 De Ligt 6,5 Alex Sandro 5,5 Bentancur 5 Pjanic 4,5 Rabiot 5 Cuadrado 5,5 Dybala 6 Ronaldo 6 Ramsey 6 Higuain 5,5 Bernardeschi s.v.  All Sarri 4  Il Migliore de ligt

parente lontanissimo di ronaldo stasera

matts88 replied to homer75's topic in Amarcord

Szczesny 6 De Sciglio 3,5 Demiral 5 Bonucci 4,5 Alex Sandro 4,5 Bentancur 5,5 Pjanic 4,5 Matuidi 4,5 Dybala 5 Higuain 5 Ronaldo 4,5 Cuadrado 5,5 Ramsey 4 Douglas Costa s.v All Sarri 3,5

Si può dire che c'è un problema ronaldo e che certi giocatori come ramsey non si capisce cosa c'entrino con la juve?