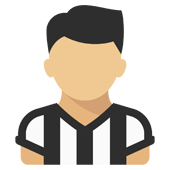 Content count

153

Joined

Last visited
Community Reputation
102
Buona
About melowestland

Informazioni
Squadra
Sesso
Provenienza
Interessi

That's Mushy Snugglebites' badonkadonk. She's my main squeeze. Lady's got a gut fulla' dynamite and a booty like POOOW!
Io sono quí, seduto sulla riva del fiume. Ai posteri l'ardua sentenza

5 scudetti, di fila ¯\_(ツ)_/¯ vediamo che fa il santone de voiartri

Conta anche il fatto che la Juve e quotata in borsa, quindi, come ti facevano notare, piu' suscettibile ad analisi finanziarie.

melowestland replied to Giannij Stinson's topic in Campionato

Lo dice nell'intervista che la sua posizione preferita é "box to box" midfielder in un centrocampo a tre. Nell'Arsenal il trequartista lo fa(ceva) Ozil. Nel Galles gioca da 8. Il giocatore é appena rientrato, diamogli tempo di recuperare la forma fisica.

melowestland replied to homer75's topic in Amarcord

xxxxx darkman ti sei fatto un iniezione di Leopardi?

Con gli schemi? Guardiola faceva gli schemini alla lavagna tipo messi la passa a dani alves che la passa a xavi ? Nulla di più lontano dalla verità.

Sperare che la squadra vada male per soddisfare il suo ergo smisurato. Mi auguro altri dieci anni di allegri Per tutto il resto....

1

melowestland replied to Fra The Best's topic in Campionato

"Mai discutere con un idiota, ti trascina al suo livello e ti batte con l'esperienza." Cit Oscar Wild

Bellissimo mestiere! Don't give up!!!!!

melowestland replied to Automan's topic in Campionato

I non capisco cosa vi trattiene dall'andare a tifare una squadra piú bella da vedere, più spettacolare. Alla Juventus per primo di gioca per vincere. Per il resto, bla bla bla Bla bla bla, chiacchere, bla bla

Per "scalabile", secondo me, si intende, prenderne il controllo. Come faresti a detenere il controllo di una societá con una quota di minoranza? Alla fine della fiera, nelle decisioni del consiglio di amministrazione, saresti sempre in minoranza. In soldoni (IMHO), non ha senso.

Non voglio entrare nella disputa, ma almeno hai realizzato che la Juventus non è scalabile?