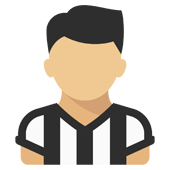 Content count

373

Joined

Last visited
The Answer replied to mercimichel's topic in Altri Sport

Forse quando verrà venduto?

Se si discute Barzagli, Bonucci, Chiellini e Rugani non dovrebbero proprio scendere in campo

Se ci fossero quattro Barzagli in difesa, i moduli sarebbero intercambiabili. Avendo altra gente che non sa minimamente marcare, si è costretti a giocare con la difesa a tre/cinque

The Answer replied to mercimichel's topic in Altri Sport

E' la fine che accomuna la maggior parte degli sport in Italia

La seconda fascia sarà terribile

Le squadre italiane partecipanti alle coppe europee saranno sempre sei, il prossimo anno

Tre scudetti consecutivi no. Ripassati la storia della Juventus

Studia la storia della Juventus

Ti inviterei a ricordare il rendimento di più di metà squadra titolare prima dell'arrivo di Conte e quello dopo l'arrivo di Conte. Gli unici due campioni che sono stati in grado di prendere sono stati Pirlo e Tevez. Il rendimento di tutti gli altri calciatori, è merito, al 90%, di Antonio Conte

Il 75% di coloro che hanno postato in questo e nel topic precedente, meriterebbe di essere bannato all'istante. Molti desiderano tornare ai tempi dei settimi posti e dell'operazione simpatia. Purtroppo, per costoro, è passato sulla panchina della Juventus un signore che ne ha segnato profondamente la storia, e ha vinto ciò che non si conquistava da più di ottant'anni. Sarebbe meglio, per questi elementi, farsene una ragione e rassegnarsi una volta per sempre.

Ce li vedi a partecipare a competizioni contro squadre siriane, iraniane, saudite, etc.?