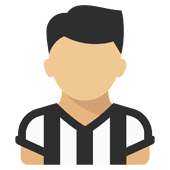 Content count

493

Joined

Last visited
coka87 replied to homer75's topic in Amarcord

Ce li hanno i soldi. Che li tirino fuori visto che sono stati loro a pagare profumatamente il ritorno di allegri

Finchè i giornalisti non gli fanno notare le cose è così...magari se qualcuno glielo dicesse...

Se questo è lo "squadrone" che volevano costruire forse hanno sbagliato qualcosa...a occhio riportando a casa in primis quello che sta in panchina e la sua idea antiquata di calcio

coka87 replied to homer75's topic in Amarcord

Magari ai quarti...agli ottavi

Sei sicuro che ce l'abbiamo ancora la prelazione?

Chiellini il suo meglio l'ha già dato, passiamo oltre...per esempio a De Ligt

C'entra eccome...stai mandando a donne di facili costumi un investimento da 75 milioni per far giocare un giocatore che ormai il meglio l'ha già dato (giustamente, ha la sua età). Chiellini poi ha 2 piedi di ghisa da sempre, ma ora sta diventando imbarazzante in impostazione

coka87 replied to giusardegna's topic in Amarcord

Ma Kulu ha pagato qualcuno per giocare sempre? E Arthur invece cosa ha combinato per non giocare mai?

Da oltre una settimana la mia juventus card è ferma su: documenti caricati. Qualcuno sa più o meno quanto tempo impiegheranno a mandarla? Non rispondono neanche alle mail -.-"

Buongiorno a tutti, spero che qualcuno chiarisca il mio dubbio. Per vedere saltuariamente qualche partita allo stadium (non vivo a Torino quindi andrei a 2, massimo 3 partite) cosa devo fare? Basta la tessera del tifoso per comprare i biglietti? Non ho capito nulla con tutti questi pacchetti che si trovano sul sito della Juve...

più che altro tu mi sembra abbia un problema con la lingua italiana...* santa che storpiature HO letto...