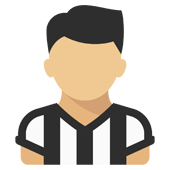 Content count

497

Joined

Last visited
Community Reputation
810
Eccellente
About Ecuador

Ecuador replied to homer75's topic in Amarcord

Se Pararici è diventato direttore sportivo di questa squadra, allora mi candido alle prossime presidenziali degli usa.

Comunque sarà anche una medaglia al valore, ma l'esclusione dalla champions (cosa peraltro probabile per demeriti sportivi), sarebbe sanguinosa per noi. Saremmo costretti a vendere Ronaldo e De Ligt come minimo.

Chi si è esposto troppo. Cioè agnelli e Perez.

Bene. Così possiamo venderlo.

Gli anni passano, i cicli finiscono. letto come se l'avesse cantata Luca Carboni. (only for pochi)

Mandare via Dybala e comprare un attaccante. Comprare un centrocampista top e un esterno di sinistra. "Solo" questo. Ah e mandare via paratici. Pirlo gli darei l'opportunità. Non facciamo gli italiani che se dopo 2 mesi non siamo primi in classifica con 200 punti allora è da cacciare.

Dybala. Il vero anello debole della squadra. Parlo dell'argentino.

Notavo una cosa: le partite in cui la Juve ha giocato meglio quest'anno: Barcellona e Parma. Mancava un giocatore: indovinate chi

1 goal su 11 partite, oggi a parte il goal totalmente avulso dal gioco. Da vendere a gennaio per Pogba e una punta di riserva. CI VUOLE UN 9. Non un "posizione non definita-tuttocampista"

Rip Pablito. Piccola polemica: ovunque foto di Paolo Rossi esclusivamente con la maglia della nazionale italiana. Mentre quando è morto Maradona sembrava avesse giocato solo con in Napoli. Perché?

Ecuador replied to homer75's topic in Amarcord

Se oggi giocavamo contro il Sassuolo, perdavamo 2-0

Non ho visto le ultime due partite ma mi sembra che siamo passati dal "siamo una squadra fortissimi, vinceremo tutto, finalmente si ingrana, altro che sarri ed allegri" a "Pirlo vergognoso, squadra tremenda, andremo in serie B".

Ecuador replied to homer75's topic in Amarcord

Dybala continua a fare schifo ma il suo fanbase non demorde! Siete ancora numerosissimi!